Testimonials
"I was thinking about you all day today and what a great person you are."

"I wanted to be #1...After 2 months I reached the top position for my most popular keywords."

Read More...

Above The Fold!
The SEO Book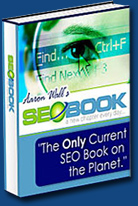 PPC Information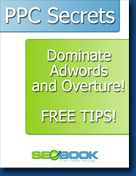 Learn more by reading PPC Blog today.
Need Links?
Need Traffic?
Use these
Free PPC Coupons
SEO Tools
WordTracker
- keyword suggeston
High Quality Web Hosting Service
The Problems With Bad Hosting
If your host goes down you do not know what traffic you are missing out on or if they will ever come back. My first host screwed up my hosting and my site was down for over a half week. No traffic. No search engines spidering me... No love. I made the mistake of going with a host that was also a registrar. Registrars usually make crap hosts.
DreamHost
I have searched hard for a high quality host and found a few. I ran through a few hosts which had inadequate uptime and virtually no customer feedback when things went wrong. My current company offers many advanced services with their most basic plan.
Dreamhost comes with guaranteed 24 hour or less return time on answering my questions (and usually much quicker.) In any democratic system we are voting for the things we buy or use. I would not be using my hosting service if I did not like it.
I was actually referred to Dreamhost by a photographer at a wedding. That is great penetration, considering that they were 4 grad students and one computer using borrowed T1 space off a friends line in 1997. Now Dreamhost has proved that it is a high quality hosting company by acquiring over 50,000 accounts since then.
The biggest thing that sets Dreamhost apart from most other hosting companies is that Dreamhost tries to make its hosting network one big family. By giving a little extra and caring a little harder, Dreamhost has grown from a dream to one of the highest quality hosing platforms over the last 6 years.
PS: here is a Dreamhost promotional coupon code to save $25 on your first purchase: jabber-mikebrown
This Site hosted by Dreamhost
V7 Hosting
I also highly recommend hosting from V7. John Scott is an exceptionally reputable guy and hosts my large database site. He provides daily backups so I know my data is kept safe.

Got SEO Questions? Get Answers in Minutes NOT Days
Read the SEO Book blog today for the latest SEO tips.
Search the archives for specific posts
You may also want to ask your questions at the SEO Book community forum.