Testimonials
"I was thinking about you all day today and what a great person you are."

"I wanted to be #1...After 2 months I reached the top position for my most popular keywords."

Read More...

Above The Fold!
The SEO Book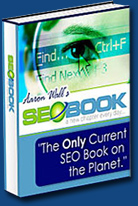 PPC Information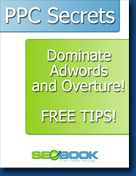 Learn more by reading PPC Blog today.
Need Links?
Need Traffic?
Use these
Free PPC Coupons
SEO Tools
WordTracker
- keyword suggeston
Cascading Style Sheets
Benefits of Using Cascading Style Sheets
When the web was created one of the main ideas behind it was to keep content separate from display. Cascading Style Sheets allow you to quickly change site design. In addition they make it easy to structure a page for top search engine placement without using overly large text. For example, the above sub header would be this large without the use of CSS.
Benefits of Using Cascading Style Sheets
With design features being kept in one file you can make quick site wide changes - like change colors of areas or text, general page layout, text font and size.
Another beautiful benefit of CSS is that it has minimal load time. since pages share the common CSS file only the file data needs to be loaded as the CSS file stays in the cache.
How Powerful are Cascading Style Sheets?
To give you an example of how powerful CSS is this CSS house was made using no images whatsoever. it is entirely made of CSS.
Blogs and Cascading Style Sheets
One of the benefits of using blogs is they can also aid you in quick content layout change. Between using CSS, blogging software, and server side includes a personally managed site can become as flexible as those which are being maintained by content management systems costing tens of thousands of dollars.
Cascading Style Sheet Resources

Got SEO Questions? Get Answers in Minutes NOT Days
Read the SEO Book blog today for the latest SEO tips.
Search the archives for specific posts
You may also want to ask your questions at the SEO Book community forum.