Testimonials
"I was thinking about you all day today and what a great person you are."

"I wanted to be #1...After 2 months I reached the top position for my most popular keywords."

Read More...

Above The Fold!
The SEO Book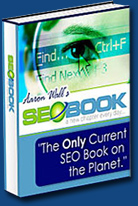 PPC Information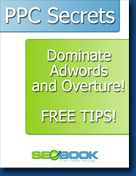 Learn more by reading PPC Blog today.
Need Links?
Need Traffic?
Use these
Free PPC Coupons
SEO Tools
WordTracker
- keyword suggeston
Free Privacy Policy Template
Headline: [Name of Company] Customer Internet Privacy Statement
(Be sure to describe up front whether your policy applies to your company's whole Web site or only to certain parts of the Web site.)
Sample Introduction: Protecting your privacy is important to us. We hope the following statement will help you understand how [name of company] collects, uses and safeguards the personal information you provide to us on our site.

I. Describe what information is being collected online.
When consumers browse your Web site, do you collect any information from them? For example, do you keep track of the pages the consumer is visiting and for how long? If you have a chat area or bulletin board, do you collect consumers' email addresses? If you provide a survey or have site registrations, do you collect the information the consumer has voluntarily provided? Does this include the consumer's email address? Do you use "cookies" for collecting consumer information? If yes, do you explain what cookies are and how you are using them?
If you don't collect any information from consumers visiting your Web site, say so in your privacy statement.

II. Describe how you use or share the information you collect.
Do you collect information only to complete a transaction? Do you use the personal information (such as name, address, survey responses and e-mail addresses) you collect to further market your own products? Do you disclose any personal information to a third party for marketing purposes? Are there other uses that you make of the information? If yes, describe them clearly.

III. Describe the choices available to consumers regarding the marketing uses of the collected information.
Do you provide an easy mechanism for consumers to opt out of having the personal information you collect used for marketing purposes - by your own company or for third-party marketing? Is there an easy way for consumers to confirm that your company has received their opt out choice, to review the choices they made, and to make changes to the choices indicated? Do you indicate the time needed to implement the choice or "opt-out" the consumer made?

IV. Describe how you handle consumer inquiries about their information or your privacy policy.
Do you provide an easy contact point for consumers who want further information about your privacy policy and what it means? For example, an email address, phone or fax number. Do you have a customer service process in place to handle customer concerns about the privacy of their personal information? Do you provide clear answers to consumers' questions about the privacy of the information you collect? Do you have a customer service process in place that allows consumers to correct their account or transaction information?

V. Describe how you protect the information online.
What types of security measures have you put in place to ensure the protection of the consumer's information? For example, does your site use the industry standard Secure Sockets Layer (SSL) protocol that encrypts personal information being transferred over the Internet? What procedure have you implemented to safeguard against unauthorized employee access to information as well as inappropriate disclosure of consumer information by an employee?

VI. Describe how you will make changes to your privacy policy and where consumers should look to see if changes have been made.
Privacy Policy Tips
The above is only an example template. Laws change over time though and different information may eventually be necessary. To learn more about online privacy policies visit the Better Business Bureau website or use one of their approved (as of writing this article) privacy policy generators listed below.
Online Privacy Policy Resources

Got SEO Questions? Get Answers in Minutes NOT Days
Read the SEO Book blog today for the latest SEO tips.
Search the archives for specific posts
You may also want to ask your questions at the SEO Book community forum.