Testimonials
"I was thinking about you all day today and what a great person you are."

"I wanted to be #1...After 2 months I reached the top position for my most popular keywords."

Read More...

Above The Fold!
The SEO Book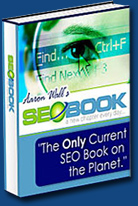 PPC Information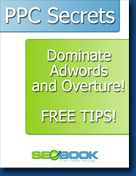 Learn more by reading PPC Blog today.
Need Links?
Need Traffic?
Use these
Free PPC Coupons
SEO Tools
WordTracker
- keyword suggeston
Blogs & Blogging Software
What is a Blog?
Blogs are self publishing or small scaled content management systems. Blogs allow a person who does not know anything about coding a web page, or even file transfer protocol to quickly and easily make a web page.
Blogs are Cheap & Have Fast Feedback Loops
As you become more advanced with blogs you can use them much the same way rich companies use expensive content management systems. the beauty of blog software is that the cost...is essentially nothing! On top of that bloggers are notorious idea spreaders, so if you have a great idea then it gets passed around quickly.
Commercial vs Personal
Blogs are extremely good for conversationalist posts. When you use a blog you must decide weather it is going to be personal or commercially based, and then stick to it. Bloggers are pretty quick to fishy smelling stuff, so its not a good idea to sit between the two. Blogs are extremely versatile though. You can make a name for yourself by putting your spin on the news in any category if you are a good or original writer. SEO Book.com is my blog about search engine news.
Blogging Benefits (Blogs Easily Allow You to:)
Get your site indexed quickly.
Get re indexed rapidly.
Get a decent PageRank.
Get involved with something you are interested in.
I explain the how to do the above in my "Why Every Webmaster Should Have a Blog" article.
Blog Articles
Blog Comment Spam War
Google and the other majore search engines came together to create a nowfollow tag which prevents blog comments which have this feature enabled from parsing link popularity.
Instead of links looking like
<a href="http://www.site.com">Site</a>
the nofollow links look like
<a href="http://www.site.com" rel="nofollow">Site</a>
This will mean that automated spam bots will likely work harder spamming many blogs and many blogs will not rank as well due in part to their own past comments on other blogs no longer parsing them link popularity.
Blog Software
Tracking Blogs
Since blogs have trackback features and fast feedback networks it is easy to track the spread of ideas across the web.

Got SEO Questions? Get Answers in Minutes NOT Days
Read the SEO Book blog today for the latest SEO tips.
Search the archives for specific posts
You may also want to ask your questions at the SEO Book community forum.