Testimonials
"I was thinking about you all day today and what a great person you are."

"I wanted to be #1...After 2 months I reached the top position for my most popular keywords."

Read More...

Above The Fold!
The SEO Book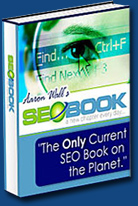 PPC Information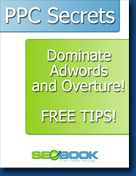 Learn more by reading PPC Blog today.
Need Links?
Need Traffic?
Use these
Free PPC Coupons
SEO Tools
WordTracker
- keyword suggeston
Web Hosting VS Domain Registration
December 2003
Many people have the misconception that domain registration and hosting are the same thing. This is completely untrue, and could prove rather costly error to your business..
Domain Registration
When you go to register a domain you are registering the rights to use that specific domain name. To keep things organized it is not actually just the domain that gets registered. ICANN associates a number with the domain name, thus keeping your data in an organized record.
There are some sketchy businesses who claim to be registrars and just in fact rip people off. If I am going to register a domain I make sure I the site is on the ICANN Accredited Registrars list.
What you do with your domain beyond registration is up to you. You can
forward it to another site
place a parking page on it
host a site on it
throw up some revenue scheme...
Hosting
Your host is the actual site which holds your site. Once you register a domain you can forward it to a host and then list the site with your host. There are many different types of hosting with many different features.
Typically open source derived software is cheaper than proprietary software. For this reason I like Linux hosting more than Windows hosting. Most things available with one are hosting type are somehow available with the other, but you should think of what type of interactive elements you may want to add before you pick a host.
A few important things with hosting are
reliability - for most hosts you would expect uptime of over 99.9%. in addition it is important to know that your host has a functional business model and that it is not just going to go away some day
customer support - technical know how and rapid customer support are a must if you are planning on making a living off the internet
type - Linux and Windows hosting support entirely different features and languages
Why Your Host is a bad Registrar
Lets assume the unthinkable happens...lets say your host goes away...now what? You want to be in control of your own domain. Typically hosts charge a premium amount to register your domain, and it is not always a treat switching it over to another registrar or host if you do not like the one you are using.
Why Your Registrar is a bad Host
I have used high quality hosting and some that was of exceptionally low quality. I had technical questions for GoDaddy when my site went down. After being blown off or passed along for three days I got a new host and have used them ever since.
In addition to poor customer service you may find that your registrar does not have the technical know how to handle your request because they are too large to train all of their personnel. Recently GoDaddy has also had errors which have prevented some of their websites from being spidered by Google. Glad I dropped them as a host a long time ago!
Imagine how hard some people are trying, but can't get traffic because they are having problems with bad hosting. Eventually new people may keep trying harder and harder until their site is viewed as spam by the search engines.
If a registrar provides bad hosting they can still likely exist. Some people will still buy hosting with their registration (just like getting milk while at the grocerie store.) If a host provides bad hosting eventually they will go out of business.
Who Do I use
Registrars: as long as its ICANN Accredited and reasonably priced that is all I care. In the past I have used GoDaddy and Network Solutions. Network Solutions is rather expensive, but it seems between most the other registrars that at least one of them have a sale going on about all the time.
Hosting: The host I would choose would depend heavily upon my goals with the sites. I use both Dreamhost and 3.75 hosting.
Dreamhost - world class customer service and tons of technical know how. (to save $25 on your hosting enter 'jabber-mikebrown' in the promotional code section). Hosts unlimited sites for $7.95 a month
Pair - another uber high quality host.
3.75 hosting - exceptionally simple and usable interface. The biggest thing I like about them is that they charge by the bandwidth and disk space (and not per domain). If you had a bunch of small sites they would be perfect!
Please note that one time I changed my credit card and they shut my sites off. I chewed them out for that. I would not host my primary site with them, but I think they are good for test sites (especially because they are exceptionally cheap.)
Conclusion
If you want you can look up the registrar, registration information, and host of any website using the Whois Source. The whole point of this article is that hosting and registration are both necessary, but it is frequently bad if they both come from the same place.
- by Aaron Wall, owner of Search Marketing Info
This article may be syndicated in whole are part. Simply provide a link back to the original article or http://www.search-marketing.info. Please note that I do not usually update articles over time and the date last modified on article pages is usually referring to a navigational change.

Got SEO Questions? Get Answers in Minutes NOT Days
Read the SEO Book blog today for the latest SEO tips.
Search the archives for specific posts
You may also want to ask your questions at the SEO Book community forum.