Testimonials
"I was thinking about you all day today and what a great person you are."

"I wanted to be #1...After 2 months I reached the top position for my most popular keywords."

Read More...

Above The Fold!
The SEO Book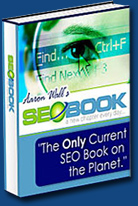 PPC Information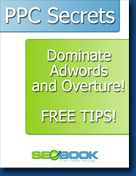 Learn more by reading PPC Blog today.
Need Links?
Need Traffic?
Use these
Free PPC Coupons
SEO Tools
WordTracker
- keyword suggeston
Copywriting Books

The Cluetrain Manifesto - various authors write a copywriting book that describes markets for what they are, conversations.

This book talks about markets back before marketing was a verb all the way up to today. They also speak of how supply and demand were separated, and now how we can reconnect via methods that were unavailable only a few years ago. Some companies will pick this copywriting information up, others are just destined to fail. Buy The Cluetrain Manifesto: The End of Business as Usual

Net Words - Nick Usborne wrote an amazing copywriting book. I think this is probably the most famous online copywriting book.

The reason that I liked Persuasive Online Copywriting more was because of how conscience it was and how clearly the information was broken up.

The Online Copywriters Handbook - Robert Bly writes using a no nonsense logical approach to copywriting. While it was an extremely informative book I liked the other copywriting books better because they were more lively and colorful...its a matter of personal preference.

One thing this copywriting book shows that most of the others books do not is some of the different ways to break down data using graphs and other display methods. Buy The Online Copywriter's Handbook : Everything You Need to Know to Write Electronic Copy That Sells

Persuasive Online Copywriting - Various authors write an exciting book on how to improve every part of your page copy.

Of the straight up copywriting books I have read this was by far my favorite. It is packed with solid information in small palatable chapters which work wonders for future reference. Buy Persuasive Online Copywriting: How to Take Your Words to the Bank

Tested Advertising Methods - John Caples writes what is likely considered the best copywriting / marketing tip book ever published.

Some of the other books may be wrote in a more recent timeframe in a manner which is easier to read, but none of them contain more useful data or as much experience in their writing. Buy Tested Advertising Methods (Prentice Hall Business Classics)

Karen's Copywriting eBook - This is one of a few book / eBook I have listed on any of these pages which I have yet to read. I link to it because of some of her solid informational posts I have read in various internet forums.

Got SEO Questions? Get Answers in Minutes NOT Days
Read the SEO Book blog today for the latest SEO tips.
Search the archives for specific posts
You may also want to ask your questions at the SEO Book community forum.