Testimonials
"I was thinking about you all day today and what a great person you are."

"I wanted to be #1...After 2 months I reached the top position for my most popular keywords."

Read More...

Above The Fold!
The SEO Book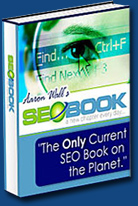 PPC Information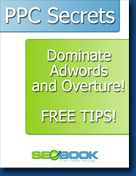 Learn more by reading PPC Blog today.
Need Links?
Need Traffic?
Use these
Free PPC Coupons
SEO Tools
WordTracker
- keyword suggeston
Renting Links
My Top Recommended Wholesale Link Brokers
Advertising on the Web
Just like every other part of the world, ads make up a huge portion of the web. Renting links is a natural form of advertising just like buying billboards.
The Best Sites to Rent Links From
Sites which are on topic are likely to send direct traffic as well as having an effect on search engine algorithms. Some of this direct traffic will eventually turn into sales and so you can pay a premium for ads which run on sites that are related to your business model.
The Right Price for Renting Links
One of the most important things to do when evaluating links for purchase is to shop around. There are a ton of factors that go into link price, and I would suggest viewing many websites and SEO forum discussions before renting links.
Many people who sell links just buy them off of other link brokers. The link broker I list in the external resources at the end of this page is one of only a handful of wholesale link brokers on the market.
Common Link Price Factors
Quality of the website the link is on.
PageRank (or link popularity) of the site the link is on.
Direct traffic the link may send.
Number of words in the text link.
Location of link on the page.
Industry of the link.
Renting vs Buying Links
Many directories have a one time inclusion fee which makes them far cheaper than renting links.
Many link rental locations will quickly provide you with extremely powerful inbound links, but they will look artificial if you rent many sitewide (or single page) high power inbound links without first acquiring many low power inbound links from many various sites.
When buying or renting any type of link you want to make sure that the link is on a page that is being indexed by search engines and that the page provides static text links.
I recommend listing your site at many directories prior to spending money renting links.
A Few Problems with Link Renting
Link prices are frequently determined by their value to some of the most high margin industries on the web. If your business is not in one of these industries then the cost of link building may be prohibitively expensive.
When you rent links you immediately pay for the links and hope that eventually the link renting will improve your rankings.
Search engines are getting more advanced and it is becoming harder to determine what links will effect relevancy and by how much.
Link renting can often follows some artificial patters. Likely search engines can and do pick up on many of these patterns.
To effectively rent links you want to get links from many various sites, use various different link text combinations, and build links into various pages.
Buying Links for PageRank
Some people call buying PageRank unethical. I call these people stupid. Ethics and loyalty to a search engine script have little to do with one another.
With that being said, PageRank is only one element of one search engine algorithm. Anchor text and link popularity are both far more important than PageRank is in helping search engines determine a page's search relevancy.
Blocked PageRank
Some sites that are selling blatant ads to any off topic high margin website have got their PageRank blocked to where they no longer parse outbound PageRank. If you see a powerful site selling unrelated casino or pharmaceutical ads then they are most likely going to eventually get their PageRank blocked. Some of these sites still show their normal PageRank in the toolbar, but do not pass link popularity to people renting links.
Link Sandbox Effect
In addition to outright blocking the PageRank of some links Google has recently been placing a link penalty on some newer links. A few things which the new link filter may be based on are link age, IP address, link text, link location and a few others. Learn more about the Google Sandbox Effect.
External Link Buying Resources
V7N Forums - this is John Scott's forum which primarily focuses on the power of links (or as John Scott would say effective SEO).
Text-Link-Ads - Patrick Gavin's link brokerage website. Patrick has a ton of great partnerships and links available on many powerful websites.
Text Link Brokers - one of the original link brokers, Jarrod Hunt is offering a 10% discount for anyone who mentions my special code . (SEObook)

Got SEO Questions? Get Answers in Minutes NOT Days
Read the SEO Book blog today for the latest SEO tips.
Search the archives for specific posts
You may also want to ask your questions at the SEO Book community forum.