Testimonials
"I was thinking about you all day today and what a great person you are."

"I wanted to be #1...After 2 months I reached the top position for my most popular keywords."

Read More...

Above The Fold!
The SEO Book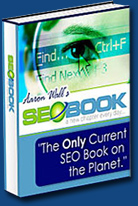 PPC Information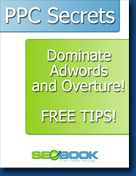 Learn more by reading PPC Blog today.
Need Links?
Need Traffic?
Use these
Free PPC Coupons
SEO Tools
WordTracker
- keyword suggeston
Evaluate Competitors Links
Manually Compare Links
You can do a backlink search in search engines. Google, for example, allows you to check inbound links using link:www.mysite.com
Problems With Manual Link Comparison
You can run this on many of your competitors websites to determine how many inbound links they have. The problem with this is that it is very time consuming, and the data is not in a comprehensive and usable form.
Text in Links
The text used in the links is at least as important as the PageRank or other link factors. When possible you will also want to evaluate what text is being used in links to help determine what is the optimal text for you to use in your link analysis.
You can tell who has the most optimized inbound links by doing an allinanchor:keywords link check.
Link Smarter, Not Harder
If you use the right link text (links with your keywords in them) you may be able to beat competitors using smarter linking, but comparing the backlinks for a few of the various sites in the top 10 rankings for your keyword should give you an idea of around how many links you will need to compete.
Manual Link Checking Tips
To search more backlinks at a time you can add &num=100 at the end of the address bar when you do a backlink search.
The Google Toolbar shows the PageRank (Google's measure of link popularity) of pages you visit. The site Proogle may help you out if it is still up (it can be taken down at any time since it violates Google's terms of service). Proogle shows the PageRank of the backlinks underneath each backlink listing.
Google is also known to only show only some of the known backlinks using it's link: function. Using Yahoo! Search you can get a more representative view of backlinks.
Speed Up Backlink Comparison
There is some automated software which will allow you to more quickly evaluate the backlinks of competitors to help you build a linking campaign.
My favorite free link software analysis tool is Backlink Analyzer.
Back Link Analyzer does total link reputation analysis (link text, number of links on the page, linking page page title, etc.)

Got SEO Questions? Get Answers in Minutes NOT Days
Read the SEO Book blog today for the latest SEO tips.
Search the archives for specific posts
You may also want to ask your questions at the SEO Book community forum.