Testimonials
"I was thinking about you all day today and what a great person you are."

"I wanted to be #1...After 2 months I reached the top position for my most popular keywords."

Read More...
Above The Fold!
The SEO Book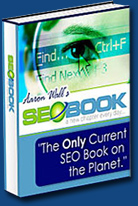 PPC Information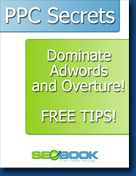 Learn more by reading PPC Blog today.
Need Links?
Need Traffic?
Use these
Free PPC Coupons
SEO Tools
WordTracker
- keyword suggeston
Overture Site Match
What is Overture Site Match?
Overture Site Match is the new Yahoo! paid inclusion program. Site Match charges both a review fee and a cost per click.
Where does Site Match List My Site?
On all Yahoo! owned search products. Currently that includes AllTheWeb, AltaVista, Inktomi Partner Sites (Please note that MSN Search is filtering out Site Match lisings.), and Yahoo! Search itself.
How Much Does Site Match Cost?
Review of the first URL is $49. There is also a category based cost per click of 15 cents. Some Site Match categories cost 30 cents.
The Goal of Site Match
Increase revenues for Yahoo!, and improve Yahoo! Search search quality.
Since Yahoo! can not mathematically compete with Google they are using editors to improve their search results. Editors are manually removing some affiliate marketing websites, and no purely affiliate site without some original content is allowed into the Overture Site Match program.
Is Site Match Worth It?
For most sites: NO
Here is a quote from a Yahoo! employee.
http://www.webproworld.com/viewtopic.php?p=81790&highlight=#81790
"you may not find value in the Site Match program if the following is the true:
- Your site is well discovered by the free crawl
- The right content is discovered and you are consistently satisfied with when and how your content is presented
- The information on your site is fairly static and the faster refresh is of less value to you
- You don't think you need more user data on search performance
If this describes your site, then the free crawl may be adequate for you and you don't need the added value of the Site Match programs."
Benefits of Overture Site Match
"Site review to ensure relevance and help high quality sites perform better." Sites participating in the Site Match Program are:
Guaranteed inclusion in Yahoo! Search and partner sites.
Frequent refresh-every 24 hours.
Offered reporting to track and optimize performance.
What Sites Should Use Overture Site Match?
Sites with rapidly rotating stock.
Sites with high profit margins.
Sites which are in a rush to get indexed, perhaps sites which are promoting an event that is to occur soon.
Sites which need tracking.
Sites which are having technical problems getting indexed.
Sites which have huge budgets and do not mind paying more for distribution.
Sites which convert exceptionally well and do not mind paying extra for greater distribution.
Sites which will be tweaked frequently to improve rankings.
Site Match Resources
See Also

Got SEO Questions? Get Answers in Minutes NOT Days
Read the SEO Book blog today for the latest SEO tips.
Search the archives for specific posts
You may also want to ask your questions at the SEO Book community forum.