Testimonials
"I was thinking about you all day today and what a great person you are."

"I wanted to be #1...After 2 months I reached the top position for my most popular keywords."

Read More...
Above The Fold!
The SEO Book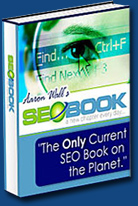 PPC Information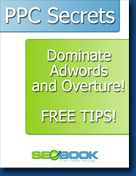 Learn more by reading PPC Blog today.
Need Links?
Need Traffic?
Use these
Free PPC Coupons
SEO Tools
WordTracker
- keyword suggeston
Google Data Centers
What are Google Data Centers?
When Google initially launched it was created using the power of distributed computing. Google was formed using the concept that thousands of regular computers working together could out perform a single super computer.
Google decided that it was important for the functionality of there system that it not rely on one central location. Google has over 100,000 computers scattered in data centers throughout the world.
How do the Google data centers prevent overload?
When you go to a web site your internet service provider (ISP) must look up the domain of the requested site. The domain name service (DNS) connects the domain to the internet protocol (IP) address. When this data is requested the browser also keeps a piece of data called Time to Live (TTL).
Most web sites are small and do not have to worry about load balancing, so they have a relatively long TTL time (usually in days). Google has a TTL time of about 5 minutes. That means every 5 minutes or so your browser requests the IP for www.google.com.
Usually the request is fulfilled by the server geographically closest to the origin of the request (to reduce data transmission time). If a server is down or overloaded Google can redirect your query to another data center. When you switch between data centers you are seeing a different cache of the web, so the results may vary widely (especially if you are checking the rankings on a new site).
While the Google Dance is officially dead, Google still does many mini dances updating there data centers cache of the web.
How Many Google data centers are there?
Google is a rapidly expanding company, and adds a new data center every few months. Recently Google changed their data centers IP Addresses to 60 different IPs. I believe there are somewhere just north of a dozen data centers.
Google Test Data Centers
Google is constantly testing and improving its ranking algorithms. When Google tests these it is not a good idea to test them as a few hundred million people are seeing the results.
While Google is testing an algorithm change or an update of a data center the DNS will not route queries to that data center. During some of these types of changes www2.google.com or www3.google.com may route to the data center. Some of the data centers temporarily go offline during some updates. This PageRank / Backlink checking tool is good for showing you the some of the different data at different data centers.
If you see frequently changing data (such as your site ranking and PageRank) it is likely due to the fact you are switching back and forth between an updated and an old data center.

Got SEO Questions? Get Answers in Minutes NOT Days
Read the SEO Book blog today for the latest SEO tips.
Search the archives for specific posts
You may also want to ask your questions at the SEO Book community forum.