Testimonials
"I was thinking about you all day today and what a great person you are."

"I wanted to be #1...After 2 months I reached the top position for my most popular keywords."

Read More...

Above The Fold!
The SEO Book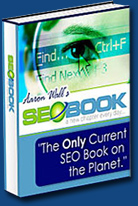 PPC Information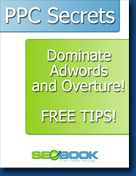 Learn more by reading PPC Blog today.
Need Links?
Need Traffic?
Use these
Free PPC Coupons
SEO Tools
WordTracker
- keyword suggeston
Above The Fold
Definition:
Term used to describe something that sticks out or is easily seen (not hidden).
Refers to the top part of a newspaper.
In internet terms it is the part of the screen which is visible without requiring scrolling.
As it applies to search: It is uncommon for a person to search beyond three pages of search results. Being in the top couple pages is vital to being "above the fold." Additionally it can refer to the visible portion of the search results.
Above The Fold Internal Resources

Got SEO Questions? Get Answers in Minutes NOT Days
Read the SEO Book blog today for the latest SEO tips.
Search the archives for specific posts
You may also want to ask your questions at the SEO Book community forum.