Testimonials
"I was thinking about you all day today and what a great person you are."

"I wanted to be #1...After 2 months I reached the top position for my most popular keywords."

Read More...

Above The Fold!
The SEO Book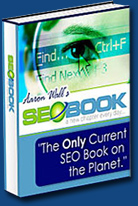 PPC Information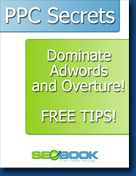 Learn more by reading PPC Blog today.
Need Links?
Need Traffic?
Use these
Free PPC Coupons
SEO Tools
WordTracker
- keyword suggeston
TrustRank & the Company You Keep
23 May 2005
TrustRank
TrustRank is an algorithm which attenuates trust scores from well trusted sources through to other sites throughout the web. It uses human reviewers to compile a seed set of a few hundred or so sites. From these sites and pages trust passes through to other sites. A while ago I did a quick review of TrustRank.
The main things the TrustRank algorithm does:
pass trust from trusted sources to other site
flags high PageRank pages with low trust scores for editor evaluation
the writers of the paper also suggest it can "act as a counter-bias to results when the results are ranked, in order to discount boosts achieved by spam."
AntiTrust (a term I made Up)
In addition to attenuating out trust ratings, an algorithm like TrustRank also has the ability to apply a counter-bias during rankings to offset potential ranking improvements from spamming activities. That was the third bullet point above.
What it means, is that if a large percentage of your links come from sites which are not well trusted search engines could either discount those links, or produce a negative weight against your site which more than compensates for the gains given from link spamming.
Example: the Common General Web Directory
Most newer web directories will sell links to most anyone willing to pay to list their sites. Got $25? Want a link? Here you go.
At the same, most of these directory owners do not do anything to build legitimate value. They are accepting money for what will eventually be a worthless service.
few directories take the time to scour the web to find useful sites to add to their index
few directories employ editors to ensure they have a high ratio of quality sites in their index
the bulk of the listed sites are of low quality
many of these directories acquire link popularity from the same source sites, which oddly enough usually have the same business models as their own directories (links that are cheap, quick, and easy to get, like listings in other directories, forum signature links, or on lists of directories)
You are the company you keep. this means:
their inbound linkage data will likely come from many low trust sites
many sites which have limited trust scores (a disproportionately large percentage) will be included amongst their listings.
too many links from these sites may thus pass AntiTrust (or a negative TrustRank score) to listed sites.
To illustrate this effect I created the following picture: (note the red Xs means things are NOT there)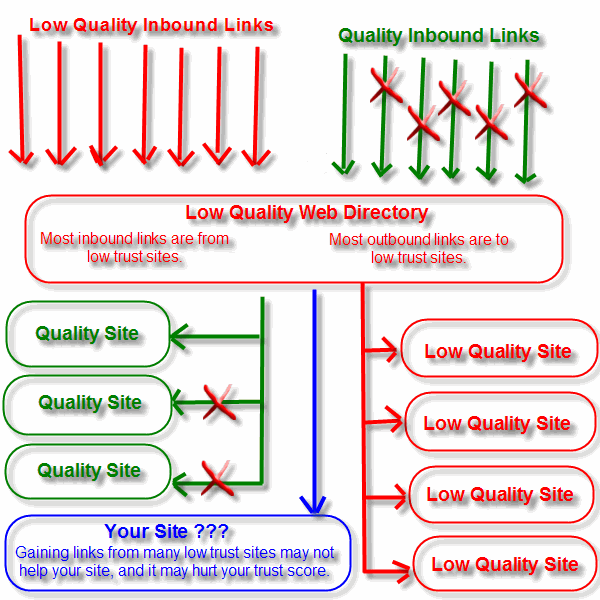 Looking at the inbound links you can see that most of their links will be built from sites without much trust, often much of the same linkage data will be uses to build the backlink data for one directory and the next.
Few directories have a good number of quality inbound links from well trusted sources. Why? To get those types of links you need to spend a good amount of time or money to legitimately advertise and have a service which is useful to site users and other webmasters.
Most directories are just a discount link brokering services. When is the last time you went to a new general directory and were blown away by the quality of the content?
Proof of Theory:
View Listed Sites:
Scour through a few of the newer smaller general directories. Notice how most of the listed sites are just people paying for links for their low quality sites.
Some, but few, legitimately useful sites get added to these types of directories, but most of the best sites are not willing to pay to be listed, and most directories do not employ editors to scour the web to look for quality sites to add. Thus trusting these sites adds noise to a search index. It makes sense if some search engines don't trust them.
You don't have to look through the whole directory to spot the trends. A small sample will do. You may even want to see what types of sites they are listing in your industry since you know it well.
View Backlink Data:
Look through the inbound links pointing into the directories. How many & what percent of the links:
look expensive or hard to get
look like they are from sites you believe would be highly trusted by search algorithms.
Imagine yourself as a search engine quality reviewer or engineer. Think would I trust this site to influence my relevancy and search index?
Most low quality directories are going to have links that are easy to get and from untrusted sites. Why? Because most of them do not build enough value to be cited as a useful resource.
Do Search Engines Create Negative Scores? Do they Hand out Bad Ratings?
A few years back (before I got into SEO) a search for "Inktomi editorial database" at AllTheWeb brought up a database of sites that Inktomi thought were bad sites, as well as the reasons why they thought the sites were bad.
That was years ago, and search engines are still limited by the content quality of the content webmasters create. Search engines are still relying heavily on linkage data for their algorithms. The only difference is more webmasters are now aware of how important linkage data is.
Yahoo! still has search editors. The profit margin is there to add the human element into search relevancy, and there is no reason to think the major search engines have stopped this.
But They Have a High PageRank!
It is not hard to manufacture a high PageRank. If you have a few thousand dollars and a few months to wait it is not hard to manufacture an artificial PageRank 7.
Search algorithms like TrustRank are used to flag high PageRank sites with low trust scores for editorial review. Google also has been employing remote quality raters. I have no idea exactly what those people do, but I would bet many of them review the type of sites that would be flagged by algorithms like TrustRank or help Google refine algorithms such as TrustRank.
Why are You Hating on Directories Aaron?
For a while I promoted directories because I thought they were an exceptionally easy way to get on topic links.
The problem has come from the fact that there has been an explosion in the number of directories and most of the directory owners are too greedy or lazy to create legitimate business models. If you don't make the site compelling for search algorithms most likely they will aim to find ways to deweight it.
Even knowing the last part was going to happen, I still promoted directories because even if Google does not like a particular directory, it does not mean that other search engines will not like it. The thing is, all the search engines compete on relevancy. You don't get more relevant than the competition by counting junk the other algorithms do not like. Buying junk links is not a long term effective SEO solution.
There are still a good number of decent directories, but I no longer am going to work as hard trying to keep up with directories because most of them are rubbish. It is the equivalent of me trying to and telling others to create useful compelling sites, and me working hard to promote people who are not willing to do the same. Where is the value in that?
Other Sites:
Every link could be evaluated along similar terms to how I mentioned some of the junk general directories in this article. The reasons I used directories as the example in this article are:
on the web links are currency
directories sell editorial review and link services
directories make the point of this article easy to illustrate
in the past I helped promote directories quite a bit
Other Linking Ideas:
There are a number of directories I still like, and there are still a ton of good ways to pick up links, but long term it helps build value to try to get some links other than just the quickest and cheapest links.
- by Aaron Wall
This article may be syndicated in whole are part. Simply provide a link back to the original article or http://www.search-marketing.info. Please note that I do not usually update articles over time and the date last modified on article pages is usually referring to a navigational change.

Got SEO Questions? Get Answers in Minutes NOT Days
Read the SEO Book blog today for the latest SEO tips.
Search the archives for specific posts
You may also want to ask your questions at the SEO Book community forum.