Testimonials
"I was thinking about you all day today and what a great person you are."

"I wanted to be #1...After 2 months I reached the top position for my most popular keywords."

Read More...

Above The Fold!
The SEO Book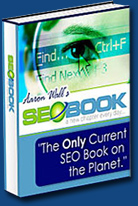 PPC Information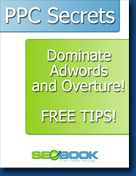 Learn more by reading PPC Blog today.
Need Links?
Need Traffic?
Use these
Free PPC Coupons
SEO Tools
WordTracker
- keyword suggeston
Why Many People Buy Shitty SEO Services
22 January 2005
A Random Phone Call
Yesterday I got a 12 minute and 43 second phone call from a prospective client. Usually your instincts are pretty damn good and you know in under a minute whether or not you would want to work with somebody, but out of courtesy I stayed on the phone.
This article illustrates some of the reasons why so many people settle for / buy shitty SEO services.
Selling Widgets
This guy called me and told me about his 2 month old site. In the last month he moved 400 widgets using Google AdWords.
These widgets were not low end widgets. These widgets were expensive and there was some competition, which posed a problem.
The Problem
Many people new to search engine marketing lose money out their ears when they start pay per click advertising. When you start a new campaign you are competing against all the feedback data and all the best campaigns that have ever been created by your competitors.
This prospective client payed $50 per sale. Many people lock themselves out of profits by trying to compete in hyper competitive fields or attaching themselves to a rubbish commodity product.
This guy did not do that. He was making good money, but did not like the idea of paying $50 a conversion.
Profits & Ad Spend
When I asked the guy how he was doing his voice had an obvious sense of excitement. He stated he was doing pretty good, which based on his tone meant he was making exceptional profits.
Data Revealed
The site was a two month old Monster Commerce powered site. While on the phone I checked it out and noticed it had 8 inbound links and that its internal pages were indexed in Google.
The product is somewhat new to the US but is highly successful in other countries. Recently I read about this product on one of my favorite blogs.
This company has access to a ton of products and is 87 years old. The salesman's father actually flew over to the other country to meet the owner of the company which makes this star product. He feels they have a competitive advantage since they are supposedly made aware of upcoming product line changes before other people are. Other than that he did not state any competitive advantages.
Some of his sales are from repeat sales and customer referrals, but a two month old site is not making a ton of resells from their advertising yet. Assuming that only 50% of his sales were from AdWords ads it meant that this guy was spending $10,000 a month on AdWords.
Based on his early profits and from looking through the search results I know it is not yet a hyper competitive marketplace. In fact, it would be rather easy for me to dominate it.
Facts and Figures
Last year I attended the NYC SES show. JupiterMedia stated that 5 out of 6 commercial purchases which originated from search came from the free / organic search results versus the paid ads.
I saw the advertisers AdWords ad position for some terms, and it looked as though he was smart enough to not bid up to the number one search result on generic competitive terms. This is part of the reason that he was making decent ROI on his sales, but it also means that there were competing sites making many more sales.
Conservative Mathematics of SEO
We can better understand the value of SEO by comparing the paid results to the natural ones. To do this with conservative mathematics we will use the following assumptions:
presume he was a market leader in his space to limit the assumed search volume: no competing sites sold more than this one did (probably off by a factor of 2-3 at least)
state that he is already gaining a ton of referals and repeat purchases to further limit search volume: only 50% of his sales come from pay per click marketing (probably low ball by at least 30 - 50%)
and further limit organic search volume by assuming more shoppers are using PPC ads instead of the organic search results: listing good in the organic search results only provide the exact same number of sales as PPC advertising (20% of the across the board average)
Using the same ROI and sales requirements that the AdWords account and using those conservative mathematics shows that he could profitably spend $10,000 a month on SEO services.
Most people want to use SEO to lower their costs (as they should), but this guy was not wanting to spend good money on SEO. Any competent SEO could do a pretty good job in most markets with that kind of money too, but greed was all too noticable in this prospective customer.
Pricing Services
I am not usually the best at pricing services, which is part of the reason I only have a few strong clients and am not managing dozens of accounts. I would only work for a person if I liked them.
Generally I like profit share partnerships, since they give me ongoing incentive to keep working hard for the customer, and so I can implement a legitimate value based compensation system. Profit Share - when I stated those two words he hissed as though I was the devil.
While in my mind I decided that he had little value to me as a customer, I still asked him questions to see if he was worth sending to anyone else, or if he just wanted to waste their time.
I told him that off the start he would want to spend a few thousand dollars on link building. He could not fathom spending that much - this as a one time fee was unheard of to a guy spending 5 times that much money on AdWords ads each month. Sad.
The Real Problems
Commodity Website With NO Unique Sales Proposition: While his product was great there was nothing spectacular about his site. He was just one of a thousand different people selling the same item.
Misconceptions: He thought SEO was mostly playing with the code - as he had recently been doing. When I told him that SEO for some engines (such as Google) was mostly link building he was blown away.
Mental Framing: He talked about paying $50 per sale and stated that was the problem. He wanted to do SEO. He stated "I want some of that free money, those free clicks, that free traffic love." Therein lies the problem.
He views SEO as free money.
In something as competitive and non-transparent as SEO if you are exclusively buying on price - looking for free money - you will probably be buying less than stellar services. And you will probably be buying again.
People want something for free. So they get what they pay for. Their own greed is at fault, not the SEO community.
Alternatives for the SEO:
I did a good amount of asking around at the SEO Roadshow in London and found out many SEOs immediately turn away over 80-90% of their prospective clients because they are not worth working for.
Usually the cheapest customers also have the most unrealistic expectations and are the biggest resource hogs. Bad customers can ruin your business.
As a smart affiliate marketer or a smart content builder you can make far more than you would earn working for a greedy or unintelligent business owner. Some options:
Make a useful and original site about something you are interested in. ..perhaps that same topic if it actually interested you (as people will give you a ton of market data free of charge).

sell ad space on your site
sell text links
join an affiliate program and earn recurring revenue - without clients
let Google AdSense or other contextual ad programs sell your ad space for you

Create tons of machine generated sites and monetize the traffic via PPC listings or affiliate programs.
Find a local merchant (ideally someone you know and trust) selling the same product or some product you are interested in. Design them a free site and partner up with them on a profit share basis.
Alternatives for Cheap or Greedy Prospective SEO Customers:
Learn SEO and promote your own site.
Create a site which is useful that helps promote itself.
Use pay per click advertising.
Create an affiliate program.
Research prospective SEO firms and recognize the value of good SEO services.
If you do not properly invest and fail to research you deserve a lemon.
- by Aaron Wall, owner of Search Marketing Info
This article may be syndicated in whole are part. Simply provide a link back to the original article or http://www.search-marketing.info. Please note that I do not usually update articles over time and the date last modified on article pages is usually referring to a navigational change.

Got SEO Questions? Get Answers in Minutes NOT Days
Read the SEO Book blog today for the latest SEO tips.
Search the archives for specific posts
You may also want to ask your questions at the SEO Book community forum.