Testimonials
"I was thinking about you all day today and what a great person you are."

"I wanted to be #1...After 2 months I reached the top position for my most popular keywords."

Read More...

Above The Fold!
The SEO Book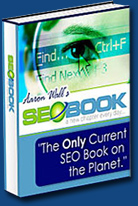 PPC Information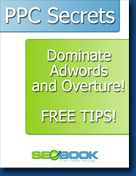 Learn more by reading PPC Blog today.
Need Links?
Need Traffic?
Use these
Free PPC Coupons
SEO Tools
WordTracker
- keyword suggeston
Mesothelioma: Greed, Cancer, & Profits
December 2, 2004
Mesothelioma: Malignant spreading tumor of the mesothelium of the pleura, pericardium, or peritoneum, arising as a result of the presence of asbestos fibres. It is diagnostic of exposure to asbestos. source
Mesothelioma is Expensive...
Treatment for mesothelioma can be expensive, it can also take lives. Fair compensation for mesothelioma frequently means a settlement of over $1,000,000.
Many people research mesothelioma on the web. While it may be lucrative some people still fail to see the value.
Mesothelioma Cost Per Click:
The $1,000,000 settlements translate into tons of profits which could be used for marketing. When I just checked the top bid on Overture was $160 per click.
Each time you go to Yahoo! and click on their mesothelioma listing it costs that advertiser north of $100.
In spite of the fact that Google is exceptionally worried about click fraud Overture and Google are both viewed as legitimate businesses. People do not mind spending the click costs if they can afford it.
Most web traffic clicks on the free listings and not the paid ads though, so one would think that it would be easy to sell...
Mesothelioma SEO Services:
I recently spoke on the phone to a mesothelioma related firm (who called me). They wanted to improve their placements and secure more traffic. In spite of the fact that they may be willing to spend $100 per click for traffic they were not interested in even spending $1,000/ month building their link popularity or improving their site position.
Imagine how many additional leads and how much additional profit a mesothelioma lawyer would get if they hired a top notch SEO using a profit share business model.
Many people fail to see the value in SEO though because they do not understand it. They want to earn hundreds of thousands of dollars per client, but they are not willing to pay for quality SEO services because there is a high rate of fraud and search engines have done a terrific job of creating marketing hype and spin about "spam."
Mesothelioma Lead Generation:
One person called me looking for data to perform keyword arbitrage. I told him I was uncertain of how to locate the data he was interested in, but that I was good at SEO.
He offered to pay me $50 a lead for mesothelioma leads. Why would I sell qualified leads for less than 30% of the cost of a click?
Mesothelioma AdSense Websites:
Google AdSense allows you to add related advertisements to your website. If you create a website about mesothelioma Google will place mesothelioma ads on your website and share the revenue with you.
I jokingly told a friend of mine about mesothelioma and he created a site which ranked well in Yahoo! for mesothelioma related terms. Despite the fact that the word mesothelioma is expensive on search advertisements it does not pay much for contextual ads. He gets about a half dozen to dozen clicks a day at under a dime each.
Chasing the Value:
Many competitive markets are competitive because people believe there is value there. In all actuality there may not be an easy way to extract value in every market and there is not value in every saturated market.
Most of the mesothelioma sites are unoriginal garbage created exclusively with profits in mind. The problem is that only a few people are making most of the money and most of the people who jump into the market will not make much money.
Uncompetitive Markets:
Many markets do not have as much money in them as mesothelioma does. The money in the market is an important concept, but opportunity cost and competing websites are both important too.
If you can dominate a smaller market doing something you enjoy you are more likely to generate greater long term value than if you are fighting to get by in a hyper saturated competitive market.
- by Aaron Wall, owner of Search Marketing Info
This article may be syndicated in whole are part. Simply provide a link back to the original article or http://www.search-marketing.info. Please note that I do not usually update articles over time and the date last modified on article pages is usually referring to a navigational change.

Got SEO Questions? Get Answers in Minutes NOT Days
Read the SEO Book blog today for the latest SEO tips.
Search the archives for specific posts
You may also want to ask your questions at the SEO Book community forum.