Testimonials
"I was thinking about you all day today and what a great person you are."

"I wanted to be #1...After 2 months I reached the top position for my most popular keywords."

Read More...

Above The Fold!
The SEO Book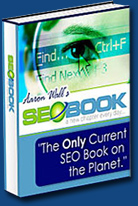 PPC Information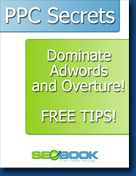 Learn more by reading PPC Blog today.
Need Links?
Need Traffic?
Use these
Free PPC Coupons
SEO Tools
WordTracker
- keyword suggeston
Inktomi VS Google
Jamuary 2004
Good Old Google
Nearly every day I look at news headlines and read another article about Google. Many economist have stated Google will spark the economy. Most search engine marketers optimize with Google in mind. Google has become synonymous with search.
Bad Old Google
Because Google had such a lions share of the search market they were able to acquire over 100,000 ad buyers. The very product which lead people to click on these ads was the high relevancy of Google search results. These ads are exceptionally expensive if used incorrectly...which many people do.
Because Google had such a lions share of the search market they were apt to be under heavy pressures of fraud and manipulation. In the Florida Update Google combated this by filtering out overly optimized search results.
Optimizing for Google
With the recent change in the algorithm it has become apparent that Google has taken great strides to stop or minimize manipulation of its search results. Essentially the way to optimize your page copy for Google is to leave it relatively unoptimized.
A good strategy for optimizing page copy for Google would then be to have a relatively low keyword density for your keywords. In the past many search engines simply allowed the highest keyword density with a good link popularity to dominate search results.
Its believed that they also re weighted some of the links. In general to optimize for Google I would
have a strong optimized page title
optimize for near terms to my main keywords (with higher keyword density)
optimize my home page for my main keywords by keeping its keyword density relatively low
if you have a 2 word keyword set you can have one keyword pretty high if the other is pretty low. If your keyword is Arkansas fishing you can have fishing all over the page as long as Arkansas has a low weighting.
You can review the top ten Google search results for your guideline. Many of them will be genuine leaders. A few of them will just have luckily snuck in there under the filters.
The goal is to write compelling text for the user of your site which also has a keyword density near some of the sites that snuck in there, but also eventually has a linking structure more powerful than most of the other top ranking sites.
You can use the Google toolbar to view
Google backlinks (or view them by typing link:www.evilcompetitor.com)
PageRank
highlight keyword density
Using those three functions on a few of the top competitors should give you an idea of what the current algorithm is looking for.
Its important to remember that you also want to have a site that works exceptionally well with its visitors. This is how you will start to get links you did not even ask for. Eventually you can start getting links from the leaders in your selected field. At that point your site will start to become part of the "topic specific local link structure," which will further boost your rankings.
Good Old Inktomi
Inktomi was Google before Google was Google...I actually did not know much about the internet when Yahoo dumped Inktomi results a few years ago, other than it made Inktomi stock drop heavily (18% on the day)...
The biggest flaw Inktomi had as a product is that in never branded itself with its own site. Hotbot was viewed as Inktomi for a bit, but they eventually went to Direct Hit, and now to their 4 search engine hodge podge.
Bad Old Inktomi
After Yahoo dropped Inktomi search results the stock slid from over $138 per share to $1.65 per share! Most of the market share Inktomi had now belonged to Google and a couple other major players.
Yahoo soon saw the profit potential of search through Google. Yahoo bought Inktomi for a mere $235 million in cash and assets. Later Yahoo consumed Overture to have their own end to end search technology.
While it may make testing easy, some people complain that paid inclusion and direct feeds lower the quality of the relevancy of search results. Looksmart and other paid inclusion companies can directly litter the Inktomi index or slowly manipulate the results over time. While searching on Inktomi I found a top listing Mesothelioma result which had
mesothelioma
in the title twice
in the description 4 times
in the keywords tag close to 20 times
in a spammy comments tag in the page heading 3 times
In addition the page copy had an on page keyword density of about 20%
Optimizing for Inktomi
Unlike Google, Inktomi is more focused on page content than links. To compete in highly competitive markets you will still need a strong linking campaign, but most markets will only require a moderate link campaign with highly optimized page copy.
The trick is that off the start you will not be able to dominate both Google and Inktomi for the exact same competitive keyword set without pouring a bunch of effort into the site. For you to have a high enough keyword density to own top Inktomi rankings it means that you may be trading off Google rankings, as it would likely trip the new Google filter.
To optimize for Inktomi I suggest
having high keyword density
focusing on slightly different word sets than with Google. If you went light on one word in Google and heavy on the other you can use the heavy word and another word to make a different keyword set for Inktomi.
ensure you take the time to create your meta tags as it may help give you a little boost
While Inktomi is still rather easy to manipulate, eventually its vulnerability will be fixed. The recent Yahoo search promotions and purchases indicate they are serious about search. Short term it will not be hard to get great Inktomi rankings. A strong linking campaign will be vital to the long term success of your business though.
Changes in the Search Landscape
MSN has been with Inktomi through its rise and fall (less a few month affair with AltaVista at the end of 99). Recently on MSN LookSmart has been providing directory listings above these algorithmic MSN results.
As Inktomi appears to be sneaking its way back into power MSN is dumping LookSmart in the middle of this month. LookSmart stock is acting similar to how Inktomi did when they lost Yahoo.
Today I saw Inktomi results back on Yahoo again. While it may only be a test, eventually it will stick. With Yahoo and MSN being powered by Inktomi that will give it nearly half of all web search distribution.
MSN is still working on its own search technology, which will most likely debut in late 2004 or in 2005. Ask Jeeves has a competitive product, and a new search engine name Nutch is in the works. All the search engines will be fighting for your quality content.
Many people who had poor Inktomi results should now reevaluate their optimization efforts. Increasing the page copy keyword density for some terms will improve Inktomi results and web traffic for many websites. As time passes though the hyperlink is going to become more and more important in search engine algorithms.
Here is a comparison of the results between Google and Inktomi for "search engine marketing."
- by Aaron Wall, owner of Search Marketing Info
This article may be syndicated in whole are part. Simply provide a link back to the original article or http://www.search-marketing.info. Please note that I do not usually update articles over time and the date last modified on article pages is usually referring to a navigational change.

Got SEO Questions? Get Answers in Minutes NOT Days
Read the SEO Book blog today for the latest SEO tips.
Search the archives for specific posts
You may also want to ask your questions at the SEO Book community forum.