Testimonials
"I was thinking about you all day today and what a great person you are."

"I wanted to be #1...After 2 months I reached the top position for my most popular keywords."

Read More...

Above The Fold!
The SEO Book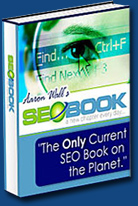 PPC Information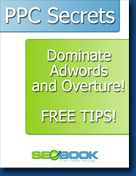 Learn more by reading PPC Blog today.
Need Links?
Need Traffic?
Use these
Free PPC Coupons
SEO Tools
WordTracker
- keyword suggeston
PageRank: a True Commodity
29 July 2004
What is PageRank Worth?
Whatever people are willing to pay for it. Nothing more, nothing less...
How does PageRank Relate to Relevancy or Rankings?
Some people believe that PageRank directly relates to relevancy, but it doesn't. In the past the Google algorithm was more reliant upon PageRank than it is today, but currently PageRank is a small factor in the Google search algorithm.
Currently the biggest factor in Google's search relevancy is getting many keyword rich links from a large variety of C block IP addresses. Getting a bunch of links from a single source is easy. Getting links from many different sources is much more time consuming and expensive.
Why do People Make Such a BIG Deal out of PageRank?
When your site is new you will have a PageRank of 0. After you get a few links in about a month or two you will see your PageRank go up and it is usually one of your first signs of SEO progress. People see that and as they continue to work they associate their improved rankings with the improved PageRank.
Since PageRank is one of only a few visual signs of SEO progress (the others being inbound links and actual rankings) and it is often easier to get a mid ranged PageRank than it is to get strong rankings many people place too much focus on PageRank.
Additionally many link brokers and sites selling links use PageRank as a factor to determine the price at which they sell text links.
How Search Engines Work
Search engines try to place the most relevant results at the top. These results are not necessarily the most optimized pages with the most links. In fact the whole reason pages and sites are optimized is to deceive search engines into thinking the sites and pages are of greater quality and value than they actually are.
As webmasters learn more about search algorithms the algorithms are required to evolve. As you and I learn more about how Google works the relevancy of their search results decline.
Google likes the fact that many people focus on PageRank because in doing so people are missing the bigger picture: PageRank is not that important anymore.
Why PageRank is Not Important
Tons of people know about PageRank because it is an extremely simple concept to understand. Google is not going to go public as a company worth billions of dollars because they rely heavily upon a system that is easy for anyone to manipulate.
What makes a search engine valuable is not what you know and can manipulate, but the things you do not know about. New filters, clustering technologies, semantic grading of pages, and the fact that Google can change to heavily integrate any of these new technologies into their algorithm at any time is what keeps webmasters on their toes. The knowledge to be able to continually make better technologies work is what makes Google valuable.
How Easy is it to Manipulate PageRank?
Super easy. Lets say I have a PR6 website. If I decide to create another site and link to it from all the pages on my current website then my new site would automatically get at least a PR5.
Most industries only have a PR5 or PR6 site as the top ranking result. If PageRank were the primary driving factor behind the Google search algorithm I could dominate a new industry every month without investing much money. Google doesn't want that.
Pockets of PageRank
PageRank is worth whatever people are willing to pay for it. While most of the value of PageRank is artificial based upon aggressive business models with high profit margins at some spots you can still buy PageRank for well under fair market value. I like to call these spots "pockets of PageRank."
Pockets of PageRank exist on the web from small scale to large scale sites. One great large scale example is the Internet.com network. You can buy keyword rich text links throughout their network of sites for $7,500 a month.
Most sites that are doing this likely will get a PR of 7 or 8 right out the gate. If you think beyond your own business model and think about all the various different commercial interests on the web there are a ton of websites that could easily afford to spend $10,000 a month renting links.
Many major link brokers also list some of their own topical directories on some of their more powerful sites that they are brokering links from. The same way I can use my sites to make anything get a PR5 or PR6 right out of the gate many link brokers make topical directories with a PR6 or PR7 based on giving them one or two exceptionally strong inbound links from a site they manage. They in turn can provide these listings free for those who reciprocate links back to the directory or to their clients sites and also as bonus kicker links to their customers.
The people renting links from the Internet.com website can also parse a bunch of that PageRank through to many other sites. If relevancy were just an issue of PageRank a person could dominate dozens of industries for under $10,000 / month.
Smaller and Cheaper Pockets of PageRank
Many smaller businesses can not afford to spend $7,500 a month renting links. Many businesses can however afford to trade a few links and to buy or rent a few links off sites that are buying bulk PageRank.
John Scott's BlueFind directory is one site which is participating in the Internet.com partner network. While he is not directly selling PageRank he is accepting quality sites into his directory for a one time fee of $40. Most sites will likely list in a PR5 or PR6 category and could likely get a PR4 or PR5 based on that single link.
While these links are powerful and well worth the $40 for most sites you still need many links from many different locations to really compete for competitive search results.
Other Directories
Getting links from lots of different locations has became important to rank well in Google's search results. Since many people are exclusively focusing on PageRank many people are missing out by not buying lots of cheap links form various locations.
Running a directory is an extremely profitable business model and there is a ton of demand for static text links from a variety of sites.
Some of the older directories such as GoGuides or JoeAnt have over time built up a PR6 or PR7. I have a directory of directories and get to see many of the new directories when they first come out. Some new directories are starting out of the gate are a PR6 or PR7 just by renting a few links.
A few hundred dollars per month can give you a PR6 or PR7 directory. At $10 or $40 per submission it does not take many submissions to make your money back. Some of these newer directories have smaller category structures which mean that you may get a PR4 or PR5 link that may last many years for that one time fee.
Since running a directory can be such a profitable business model the quantity of directories will continue to increase sharply over the next 6 months to a year.
Free Pockets of PageRank
PageRank is a Commodity
The only value that PageRank really has is artificial, and the prices are frequently based on high margin industries.
When you are new to SEO PageRank seems exciting, but as you burrow yourself into the social structure of the web your PageRank will naturally increase over time and you begin to realize it is not that important.
One of my buddies has a PR6 site in which all of his links come from forum comments. There are a ton of free or cheap sources of decent PR links all over the web.
Because it is so easy to manipulate PageRank does not mean that much anymore. To rank well for competitive terms you need keyword rich links from a bunch of different locations. Getting links from a ton of different locations takes a ton of time, money, and effort.
The SEO Goal of Search Engines
Search engines would like SEO to be so complex and to take so much time and effort that you would just decide to use their ads or create a resource that would naturally pick up enough links to rank well.
Renting PageRank from a single powerful site is easy and can often be done for as little as a hundred to a few hundred dollars per month, thus Google will continue to find ways to devalue it as their algorithm advances.
If you are focusing exclusively on PageRank then likely you are focusing your efforts on a commodity which will continue to decrease in value as Google advances its algorithm.
The ticket to top Google rankings right now is many keyword rich links from many unique C block IP addresses. I also recommend using a couple different variations of link text to prevent your link popularity from looking entirely automated.
- by Aaron Wall, author of The Search Engine Optimization Book.
This article may be syndicated in whole are part. Simply provide a link back to the original article or http://www.search-marketing.info. Please note that I do not usually update articles over time and the date last modified on article pages is usually referring to a navigational change.

Got SEO Questions? Get Answers in Minutes NOT Days
Read the SEO Book blog today for the latest SEO tips.
Search the archives for specific posts
You may also want to ask your questions at the SEO Book community forum.