Testimonials
"I was thinking about you all day today and what a great person you are."

"I wanted to be #1...After 2 months I reached the top position for my most popular keywords."

Read More...

Above The Fold!
The SEO Book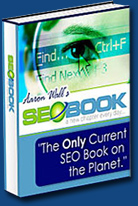 PPC Information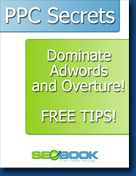 Learn more by reading PPC Blog today.
Need Links?
Need Traffic?
Use these
Free PPC Coupons
SEO Tools
WordTracker
- keyword suggeston
Writing a Book Report for Money
February 2004
Learn What You are Interested In
Many people believe they are forced into doing something that they do not want to. It is true that in many areas there are limited opportunities. Many of us have far more options than we think.
While the web is huge, there are big holes in the web. There is lots of mis information floating around the web too. By learning, formatting, and distributing information you can make a ton of money.
Who Are The Experts
If it is your field of study there stands a strong chance that you already know who the experts are. If not you can used advanced link analyis of the entire social fabric of the web.
At first this may seem a bit hard, but there are many subtle cues you can add up. As far as search engines go you can check
Teoma Search Results for common searches in your field.
Google Search Results for common searches in your field.
Meta Search Results for common words in your field. (please note: some of these are thrown off a bit by overweighing ads from sources such as Overture)
If a site appears strong in all three of the above sources then chances are it is a solid resource on your topic.
How Much can an Author Make?
I honestly am not a book author and do not know the exact numbers. Many book authors make a few dollars per book on only sell 10,000 or 20,000 copies of their book.
I knew nothing about the internet 15 months ago. The internet is a cheap way to start building your reputation. If you ever decide to write a book in the future this will help create demand.
How Much can a Book Report Make?
I have already had over 1,000,000 visitors to my web sites. Every day thousands more people see what I have to say about whatever is on my mind.
Many of these people also see advertisements for things I think highly of, or things from ad server networks which automatically place related ads on my website.
I can not state my conversion rates for some of my ads, as it would violate some of the terms of service. I will make up an entirely hypothetical situation below. For selling items on the web a typical conversion rate is 1 - 2% for most items. Assuming that the ads are not horribly misplaced you should be able to generate a click through rate of at least that amount.
20,000 page views a day
2% click through rate
25 cents per click (Completely arbitrary number I am using just to show math. this number could change a ton. Data recovery is much more expensive than cat nip.)
400 clicks * 25 cent = $100 / day or $3000 / month or $36,500 / year
Once you create your site you can apply for AdSense or other content ad servers.
How to Make the Book Report
You can not just copy a book. What makes the internet unique is that it allows you to easily and cheaply mix your personal voice with information. It also makes it possible to jump from one idea to the next.
I recommend reading about a half dozen books on a topic that interests you. Write down notes while you are reading. Compile the data so that each page is on its own specific subject. Structure each page using headings, subheadings, and bulleted lists to break up the content to make it easy to read.
If Your Book Reports are Really Good
If you do a good enough job creating value then people may continually come back looking for more. Links will also start showing up which will help expand your reach.
You can then leverage this position by placing a free forum on your website. phpBB makes an incredible free product and only charges a one time $50 fee if you buy a commercial license.
With forums other people create the conversation and content for you. You just collect the profits and grow your reputation. You also can collect feedback to do anything you want if you are creative enough.
For example, I am collecting feedback about the effects of antidepressants on people. I can use this data anyway I like and can help people with it. That is what the internet is all about anyway :)
- by Aaron Wall, owner of Search Marketing Info
This article may be syndicated in whole are part. Simply provide a link back to the original article or http://www.search-marketing.info. Please note that I do not usually update articles over time and the date last modified on article pages is usually referring to a navigational change.

Got SEO Questions? Get Answers in Minutes NOT Days
Read the SEO Book blog today for the latest SEO tips.
Search the archives for specific posts
You may also want to ask your questions at the SEO Book community forum.