Testimonials
"I was thinking about you all day today and what a great person you are."

"I wanted to be #1...After 2 months I reached the top position for my most popular keywords."

Read More...

Above The Fold!
The SEO Book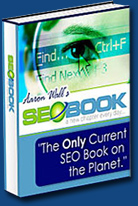 PPC Information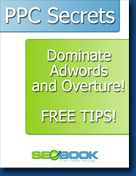 Learn more by reading PPC Blog today.
Need Links?
Need Traffic?
Use these
Free PPC Coupons
SEO Tools
WordTracker
- keyword suggeston
The All Powerful Link Myth
November 4, 2004
How Much does an Extremely Powerful Link Cost?
The price of links depends on a ton of things. Generally it comes down to perceived value, but the value is going to depend on many issues.
Link brokers set their prices based on market demand. This means that if the site is willing to accept pharmacy links and a link is worth $300 a month to a pharmacy website than so long as there is sufficient demand that price will carry over to all the link slots. If you own a site with slimmer margins you may not be able to make money renting those links.
How Powerful is the All Powerful Link?
When links develop naturally usually there is an extremely high number of low power links to high power links. If you buy nothing but high power links that will look abnormal.
If your inbound link profile sticks out as abnormal your site may not rank as high. Powerful links can help, but it is usually far cheaper and more effective to build many low power links than to go after a single or few high power links.
Link Brokers
Recently while reading a link brokers website I saw the following statement:
This deal is very unique. We are offering you "exclusive link text" for this deal. What this means is the first client for example to purchase the link text: "cell phones" will be the only client ever on this network with this link text. Once a keyword phrase has been purchased it is gone.
This means that some link brokers knowingly:
are willing to sell links to competitors; &
use the links you buy to attract your competitors.
If you are not in a high margin field you probably do not need high power links pointing into your website. Blindly and prematurely renting links does nothing but squeeze the profit margin out of your business.
Should I Rent Links?
Some people want to rent a bunch of links right out of the gate before they have their website or brand or marketing in order. The problems with wanting to rent a bunch of links right out of the gate are:
If you do not have any links from sites within your community then clustering search algorithms are not going to rank your site well.
If you have not built a broad base of low power links then the high power links are not going to help you near as much as they otherwise would.
If you are paying recurring fees for every link into your site you are entirely hoping that you can buy links smarter than your competitors.
Renting a few high power links makes it easy for most of your customers to know where your link popularity comes from. It also makes it easy for them to buy links from the same spots.
Many times the people selling links to you are also willing to sell them to your competitors.
You may want to place ads for market testing. You may also want to place them for search engine marketing, but keep in mind you should build a ton of low power links into your site beforehand or concurrently so that your link profile does not appear unnatural.
LookSmart: the Problems with an All Powerful Link Partner
Until early this year LookSmart achieved 65% of their distribution through a partnership with MSN. MSN decided to dump them. LookSmart had to fire a ton of their staff and restructure.
Being a paid inclusion partner with a top portal is similar in effect to depending on a single or few powerful sites for the bulk of your link popularity. If they want more money then you either pay up or watch your rankings crumble. If your relationship sours then you are probably just out of luck.
Many Low Power Links
This is not always true, but generally the less dependant you make your business on search results the more likely search engines are to want to display it...meaning that if many of your peers and perhaps some of the leaders in your field think your site is great then search eventually should too...at least if it is working correctly.
If you make many smart business partnerships and friendships then you can drive a ton of direct traffic to your sites through those links from a variety of websites. If your ranking in the major search engines drop you will still have a steady stream of traffic.
Those same partnerships will also help build your link popularity and improve your rankings. Many times it is hard to tell which marketing investments will be the best ones to make (and you are likely to make some mistakes - as I know I have), but with the web it is usually better to use a variety of marketing techniques than to rely on any single source, especially with how search algorithms can change overnight.
- by Aaron Wall, owner of Search Marketing Info
This article may be syndicated in whole are part. Simply provide a link back to the original article or http://www.search-marketing.info. Please note that I do not usually update articles over time and the date last modified on article pages is usually referring to a navigational change.

Got SEO Questions? Get Answers in Minutes NOT Days
Read the SEO Book blog today for the latest SEO tips.
Search the archives for specific posts
You may also want to ask your questions at the SEO Book community forum.