Testimonials
"I was thinking about you all day today and what a great person you are."

"I wanted to be #1...After 2 months I reached the top position for my most popular keywords."

Read More...

Above The Fold!
The SEO Book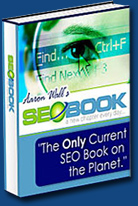 PPC Information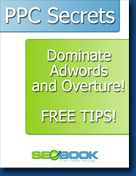 Learn more by reading PPC Blog today.
Need Links?
Need Traffic?
Use these
Free PPC Coupons
SEO Tools
WordTracker
- keyword suggeston
Search Engine Marketing Newsletter
This it the home of the archives of Above The Fold, my search engine marketing newsletter.
Above The Fold Articles
ABOVE the FOLD Vol. 4 issue 1.
sections:
tool of the week ***around the web
------------------------------------------------------------------
Around the Web (news):
***Freebies***
The first twenty people who email me with "Free SEO Book" get a copy of my ebook free of charge. Free updates and all :)
*** / end freebies ***
It has been a while since I did a newsletter. This newsletter is like a recap of late 2005 & the 1st half of 2006.
The state of relevancy: Today I finished an article comparing the relevancy algorithms between the 3 major engines.
http://www.seobook.com/relevancy/
Google Jagger - a few months back Google did an update called Jagger, which was largely about suppressing the effectiveness of reciprocal links and other low quality links.
Google BigDaddy - Google is now looking at inbound and outbound link quality to set crawl priorities. If most of your links are low quality links and you do not have any real editorial citations from quality sites Google may crawl your site only shallowly or may not include it in their index.
Matt Cutts offered a great post about BigDaddy and Google indexing
http://www.mattcutts.com/blog/indexing-timeline/
Mike Grehan also recently interviewed Matt Cutts. Article here
http://clickz.com/experts/search/results/article.php/3605961
and audio files are here and here
http://www.e-marketing-news.co.uk/audio/mattcutts/part1.mp3
http://www.e-marketing-news.co.uk/audio/mattcutts/part2.mp3
Yahoo! is pushing a Yahoo! Answers product where you can ask or answer questions. They are mixing these into their search results.
------------------------------------------------------------------
Tool(s) of the Week / Month / Year(s):
Microsoft AdLab Tools - about 15 different interesting search engine marketing tools
http://adlab.msn.com/demo.aspx
Google Trends - see the historical patterns for searches
http://google.com/trends?q=seo
SEO Book keyword research tool - free keyword research tool which cross references most any other useful keyword research tool on the market. It is driven off the Overture database.
http://tools.seobook.com/general/keyword/
------------------------------------------------------------------
If you prefer to keep up to date with the news more frequently please check out my blog http://www.seobook.com
if you like this newsletter please tell a friend to signup

Got SEO Questions? Get Answers in Minutes NOT Days
Read the SEO Book blog today for the latest SEO tips.
Search the archives for specific posts
You may also want to ask your questions at the SEO Book community forum.