Testimonials
"I was thinking about you all day today and what a great person you are."

"I wanted to be #1...After 2 months I reached the top position for my most popular keywords."

Read More...

Above The Fold!
The SEO Book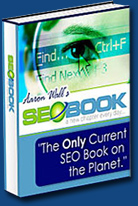 PPC Information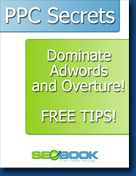 Learn more by reading PPC Blog today.
Need Links?
Need Traffic?
Use these
Free PPC Coupons
SEO Tools
WordTracker
- keyword suggeston
Search Engine Marketing Newsletter
This it the home of the archives of Above The Fold, my search engine marketing newsletter.
Above The Fold Articles
ABOVE the FOLD Vol. 3 issue 4.
sections:
tool of the week *** book of the week ***what would you like ***around the web: Google My Search History*** random
------------------------------------------------------------------
Around the Web (news):
***Freebies***
First three people who email me with "Free SEO Book" get a copy of my ebook free of charge. Free updates and all :)
First person to email me with "$100" as the title gets a free $100 AdWords coupon. It must be redeemed right away and you must be new to AdWords to qualify.
*** / end freebies ***
Audio of me chatting about seo. let me know what you think
http://www.seobook.com/seo.mp3
can't get enough of me? here is another interview:
http://www.searchenginerelevancy.com/information/seobook.html
I was joking with the can't get enough of me stuff :)
Google and Yahoo! both delivered blowout Q1 2005 profits.
Airweb spam research papers - a list of some of them.
http://blog.searchenginewatch.com/blog/050408-130607
Google awarded a patent for using user feedback and doing temporal link analysis.
http://www.threadwatch.org/node/2115
THIS IS HUGE. it changes the game for doing SEO for Google. more analysis here:
http://www.wolf-howl.com/2005/04/google-patent-analysis.html
Google My Search History - saves searches, this may also be used for data for the above patent
http://www.seobook.com/archives/000810.shtml
Google AdSense allows advertisers to filter and chose publishers.
http://blog.searchenginewatch.com/blog/050425-000001
also allows publishers to show ad links instead of showing full ads. http://www.searchengineblog.com/2005/03/google-adsense-changes.html
Google solves 302 errors
http://www.threadwatch.org/node/2310
in the past sites could use 302 redirects to hijack your search engine rankings.
Google launches an AdWords budget optimizer
https://adwords.google.com/support/bin/answer.py?answer=16271&hl=en_US most well known PPC experts think the service will be inferior to the service of a pro.
Google Code - open source code from Google
http://code.google.com/
Google launches video search
http://video.google.com/
Google & Yahoo! may be in talks with Tivo
http://news.com.com/TiVo+courts+search+giants/2100-1041_3-5673225.html
Google added satelight video to their maps product. they also launched UK local and maps in the UK. Google just updated toolbar PageRank as well.
Google acquires Urchin (a web analytics company)
http://www.urchin.com/company/news/03282005.html
Google Local business center - list your business free
http://www.traffick.com/2005/03/businesses-new-relationship-with.asp
Keyword density is a useless measure of content quality
http://www.e-marketing-news.co.uk/Mar05/garcia.html
Yahoo! buys Flickr
http://jeremy.zawodny.com/blog/archives/004362.html
and a Latin American PPC network
http://www.seroundtable.com/archives/001821.html
Yahoo! Concept Network and SuperUnits
http://www.seroundtable.com/archives/001840.html
Yahoo! launches 360, their blogging and social network. if you need an invite email me w 360 as the subject
http://360.yahoo.com/
Yahoo! unveils their new search marketing site
http://searchmarketing.yahoo.com/
Yahoo! Local offers businesses free sites
http://www.ysearchblog.com/archives/000101.html
WordPress caught spamming
http://www.waxy.org/archive/2005/03/30/wordpres.shtml
after they removed the content spam Google relisted their site the next day. meanwhile, Stanford Daily continues to spam
http://forums.searchenginewatch.com/showthread.php?t=5282
Traditional newspapers buy a 75% stake in Topix
http://blog.topix.net/archives/000071.html
MSN launched their AdCenter. beta testing in France and Singapore. intended to be fully launched before the end of the year. gives demographics data.
http://searchenginewatch.com/searchday/article.php/3490346
MSN also launches a beta version of their shopping search
http://beta.shopping.msn.com/
InterActive Corp to buy Ask Jeeves
http://www.nytimes.com/2005/03/21/business/21deal.html
Ask Jeeves powers Lycos
http://www.internetnews.com/bus-news/article.php/3487446
Adobe to buy MacroMedia
http://home.businesswire.com/portal/site/google/index.jsp?ndmViewId=news_view&newsId=20050418005475&newsLang=en an honest view at why the purchase was made:
http://daringfireball.net/2005/04/adobe_translation
Link Prediction using Markov Chains
http://www9.org/w9cdrom/68/68.html
SocSci Bot - Link crawler for the social sciences
http://socscibot.wlv.ac.uk/
------------------------------------------------------------------
Tool(s) of the Week / Month / Year(s):
Hub Finder - finds pages which link to two or more related sites using the Yahoo! API.
http://wm-community.com/tools/hub-finder/index.php
more info about Hub Finder at
http://www.seobook.com/archives/000732.shtml
Digital Point keyword tracker - tracks rankings in all the major search engines for free.
http://www.digitalpoint.com/tools/keywords/
C class backlink analyzer tool
http://www.webuildpages.com/cclass/
Competitor link spying tool - cool for free, has music though.
http://www.seoguru.co.uk/seo/spy.php
URL Trends - provides graphs tracking Alexa and backlinks in many major search engines over time. checks once a month
http://www.urltrends.com/
Google Recently Spidered - shows if a page or site was recently spidered by Google.
http://www.123promotion.co.uk/tools/google-recently-spidered.php
MyDensity - tool shows 1st and 2nd degree relationships between sites
http://mydensity.com/map?url=http://www.seobook.com
Resource Rate - group blog which rates threads and blogs.
http://www.resourcerate.com/
Deep Link analyzer tool - checks the deep link % of the top 10 search results.
http://www.webuildpages.com/seo-tools/
Link Vault - community link exchange program similar to the Digital Point coop.
http://www.link-vault.com/
WeBuildPages search combination tool - creates links to various search results based on terms you enter. good for link exchanges and link hunting.
http://www.webuildpages.com/search/
WidgetBaiting - Jason Duke's new free content spam tool.
http://www.widgetbaiting.com/
------------------------------------------------------------------
Monthly Media:
Tomorrow Now - awesome book by Bruce Sterling describing what he sees as coming in the next 50 years. be the first to email me with tomorrow as the subject to claim a free copy.
http://www.amazon.com/exec/obidos/ASIN/0812969766/103-2743264-8752619
How to Start a Company
http://www.paulgraham.com/start.html
Paul also talks about writing, briefly
http://paulgraham.com/writing44.html
and wrote about public relations
http://www.paulgraham.com/submarine.html
A Decade of Online Advertising
http://www.doubleclick.com/us/knowledge_central/documents/RESEARCH/dc_decaderinonline_0504.pdf
thread about self publishing
http://37signals.com/svn/archives2/what_do_you_think_about_self_published_books.php
Interview of a link spammer
http://www.thechrispirilloshow.com/help/20050308_from_texas_holdem_to_texas_tea_meet_the_oilman.phtml
death of traditional media as a marketing medium
http://www.onthemedia.org/stream/ram.py?file=raotm/otm040805h.mp3
the Architecture of Participation
http://www.itconversations.com/shows/detail328.html
Its a flat world - the effects of outsourcing and globalization
http://www.nytimes.com/2005/04/03/magazine/03DOMINANCE.html?pagewanted=1&ei=5090&en=cc2a003cd936d374&ex=1270267200&partner=rssuserland
Lawrence Lessig - the comedy of the commons
http://www.itconversations.com/shows/detail349.html
Bob Dylan and Johnny Cash Songs (#9 rocks...)
http://djmonstermo.blogspot.com/2005/02/bob-dylan-and-johnny-cash.html
State of the Media 2005
http://www.stateofthemedia.org/2005/
For site designers: Oblique Strategy Guides
http://www.rtqe.net/ObliqueStrategies/Acquire.html
Gain media exposure by creating your own channels
http://www.gapingvoid.com/Moveable_Type/archives/001430.html
Marc Cuban on content & technology
http://www.blogmaverick.com/entry/1234000230037801/
the long emergency - about oil and energy shifting. interesting.
http://www.rollingstone.com/news/story/_/id/7203633?pageid=rs.NewsArchive&pageregion=mainRegion&rnd=1111689845570&has-player=true&version=6.0.12.104
------------------------------------------------------------------
Feedback from last newsletter:
What Would You Like
This newsletter will only be good if I can offer what you are interested in. Please send your SEO questions or any ideas you have for things I should put in here.
mailto:aaron@search-marketing.info
If you like this newsletter, site, or my other site please
consider linking :)
If you prefer to keep up to date with the news more frequently please check out my blog http://www.seobook.com
------------------------------------------------------------------
Random happening of the Week:
GapingVoid Tshirt line launched - yippie
http://www.indigotshirts.com/gapingvoid/
be the first to email me with tshirt as the subject to claim a free shirt
We Build Pages theme song - funny
http://pvxrecords.com/webuildpages/webuildpages.mp3
Secrets of Media Success - funny
http://movies.crooksandliars.com/Dino.mov
Yahoo! Netrospective
http://birthday.yahoo.com/netrospective/
New Media Ecosystem Flowchart
http://www.echochamberproject.com/blog/archives/000101.html
Cool Batman Lego video
http://www.daveschool.com/BATMAN/index.html
Automated thesis page generator :)
http://www.pdos.lcs.mit.edu/scigen/
I Park Like an Idiot
http://iparklikeanidiot.com/
------------------------------------------------------------------
Quote of the Week:
The logic of worldly success rests on a fallacy: the strange error that our perfection depends on the thoughts and opinions and applause of other men! A weird life it is, indeed, to be living always in somebody else's imagination, as if that were the only place in which one could at last become real!
- Thomas Merton
if you like this newsletter please tell a friend to signup

Got SEO Questions? Get Answers in Minutes NOT Days
Read the SEO Book blog today for the latest SEO tips.
Search the archives for specific posts
You may also want to ask your questions at the SEO Book community forum.