Testimonials
"I was thinking about you all day today and what a great person you are."

"I wanted to be #1...After 2 months I reached the top position for my most popular keywords."

Read More...

Above The Fold!
The SEO Book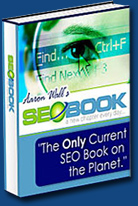 PPC Information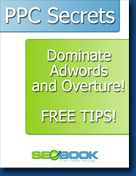 Learn more by reading PPC Blog today.
Need Links?
Need Traffic?
Use these
Free PPC Coupons
SEO Tools
WordTracker
- keyword suggeston
Search Engine Marketing Newsletter
This it the home of the archives of Above The Fold, my search engine marketing newsletter.
Above The Fold Articles
ABOVE the FOLD Vol. 2 issue 28.
sections:
tool of the week *** book of the week ***what would you like ***around the web: Google, Yahoo! & MSN News *** random funny
------------------------------------------------------------------
Freebies!!!
######
Free listing in the GoGuides directory. If you are one of the first two people to email me with GoGuides in your subject line and have a site not yet listed in GoGuides directory which complies with their guidelines I will submit your site free.
Offer prohibited to adult, gambling, pharmacy, and lead generation websites.
*****
Around the Web (news):
SEMPO: still stinks...or at least Mike Grehan's new article makes it seem that way.
I tend to agree with Mike's article.
http://www.netimperative.com/in_depth/Who_needs_SEMPO_Part_deux
Some people propose there perhaps could be something better
http://www.cre8asiteforums.com/viewtopic.php?t=13190&start=0
Google Contextual AdWords
Google has been promoting their contextual ad network by offering up to $1500 back on your contextual ad spend
Here is a great 9 minute video about how Google's contextual ads work
http://www.google.com/adwords/context/webinar/1971/index.html
Here is where I wrote about it
http://www.seobook.com/archives/000454.shtml
Yahoo! (Overture) VS Google
The patent lawsuit is settled. The license cost Google over $300 million in stock. That is nearly 20% of what Yahoo! paid for Overture.
Google Backlink Update
Google did anther Backlink update. They updated backlinks and directory PageRank but they did not update Toolbar PageRank display. Some have stated that they were talking about going to a quarterly update cycle for visual PageRank updates.
Google Presentation
http://www.research.ibm.com/haifa/Workshops/searchandcollaboration2004/papers/haifa.pdf
Google did a presentation in Haifa. It had a few interesting points in there such as :
each day there are over 100 million unique search queries
about 10% of URLs are dynamic and change each mont
UK Government starts using pay per click advertising
Certainly one group I would not want to get in a bidding war with ;)
http://news.bbc.co.uk/2/hi/technology/3555480.stm
MSN Search
Sponsored the Chicago SES conference. Likely they will launch their search engine by mid December at the latest.
GOOG
is the new ticker symbol for Google. they started accepting bids for their stock today.
------------------------------------------------------------------
Tool(s) of the Week: Digital Point's Keyword Suggestion Tool
http://www.digitalpoint.com/tools/suggestion/
Shawn added region / market filters that now allow you to collect keyword search volumes by geographic regions.
Please note that the estimates only measure a portion of the web and are not exact and are fairly rough
------------------------------------------------------------------
Book of the Week: MSNs Research Paper on Block Link Analysis
ftp://ftp.research.microsoft.com/pub/tr/TR-2004-50.pdf
Talks about grading topical links by breaking pages down to their visual elements since many pages cover multiple different semantic topics.
------------------------------------------------------------------
What Would You Like
This newsletter will only be good if I can offer what you are interested in. Please send your SEO questions or any ideas you have for things I should put in here.
mailto:aaron@search-marketing.info
Q?: "In your
article about PageRank you mention "C block ip addresses". What is the
definition of a "C block ip address"?"
A: each site is served on an IP address and some virtual addresses hold
many sites on a single IP address.
each IP address looks like AA.BB.CCC.DDD
you want to get many links from sites with different a, b, or c
elements when possible.
this is what normally happens when you get links naturally. the goal
of this is to prevent me from excessively voting for my own site.
since sites hosted from the same host usually are on the same c block
(a b & c are the same for site 1 & site 2) this helps negate some of
the cheaper and easier techniques to manipulate Google.
From Eric (a bit lengthy of a Q & A)
"In your book you suggested getting ROS (Run of Site) links if
possible. In my most recent reading of various forums it sounds like
Google is looking at ROS links as link SPAM. No one has offered any
evidence to this, so I was wondering what your latest thoughts are on
ROS links."
if you are buying ads then you should be fine. if you are just buying
PageRank then it might be such a good idea to go run of site. I have
seen PR7 run of site links in sites with PR7 inner pages for $100 /
month.
before renting any links I would register with a ton of directories.
Googles current algorithm is more about keyword rich links from unique
domains / unique C block IP addresses than it is about just PageRank.
"Links to Home Page or multiple pages throught the site? Is it better
to get 100 external links to website.com or 10 links to
website.com/page1.html and 10 links to website.com/page2.html and so
on? Basically, to spread the links across the website pages or just
concentrate on the Home Page."
It honestly depends on what your goals are. I focus my home page on
the most competitive term. I get most my links to my home page. If it
makes sense to get links to inner pages and / or its easier to get
links to inner pages then go for it.
"It sounds like Google is going to begin crawling links that are in
JavaScript, not just plain text links. So, for instance I wish to
have some links on my pages that pass PageRank credit (like for link
partners). For other links I would like to not pass PageRank to those
sites. What is the best way to do this? Do you have any examples of
code that will allow users to follow a link, but that Google will not
follow?"
don't worry about passing PageRank. for most sites it is not a big
deal. eventually outbound links may become more important and as long
as you are not linking out into garbage you should be fine.
as far as code http://www.blackhatseo.com links out to garbage (that
is the goal of that domain...to show not good stuff). if search
engines followed those links in black hat seo that site would get
banned. most sites should not block their links though.

------------------------------------------------------------------
Random happening of the Week:
Over medicated society??? Maybe. UK water found to have Prozac in it.
http://news.bbc.co.uk/1/hi/health/3545684.stm
------------------------------------------------------------------
if you like this newsletter please tell a friend to signup

Got SEO Questions? Get Answers in Minutes NOT Days
Read the SEO Book blog today for the latest SEO tips.
Search the archives for specific posts
You may also want to ask your questions at the SEO Book community forum.