Testimonials
"I was thinking about you all day today and what a great person you are."

"I wanted to be #1...After 2 months I reached the top position for my most popular keywords."

Read More...

Above The Fold!
The SEO Book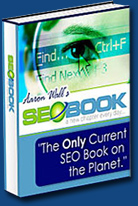 PPC Information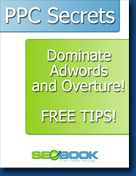 Learn more by reading PPC Blog today.
Need Links?
Need Traffic?
Use these
Free PPC Coupons
SEO Tools
WordTracker
- keyword suggeston
Search Engine Marketing Newsletter
This it the home of the archives of Above The Fold, my search engine marketing newsletter.
Above The Fold Articles
ABOVE the FOLD Vol. 2 issue 4.
sections:
tool of the week *** book of the week ***what would you like ***around the web: Social Networking *** random funny
------------------------------------------
Around the Web (news):
Social Networking:
Eukester is a new bolt on search product which allows you to share your searches with your friends. Basically when you search for something and stay at the site for greater than a minute you are casting a vote to say its a quality resource.
Visit Eukester: http://www.eurekster.com
More Info: http://searchenginewatch.com/searchday/article.php/3301481
Google
1.) Orkut is a new Friendster type social networking product offered by Google (currently only for use by Google).
http://www.orkut.com/
2.) Google Updated PageRank and Dances
3.) Google Search: Hermit
http://www.google.com/search?hl=en&lr=&ie=UTF-8&oe=UTF-8&safe=off&c2coff=1&q=define%3A+hermit&btnG=Google+Search
Evil: why I do not like the concept of search personalization.
http://www.search-marketing.info/newsletter/articles/personalization.htm
Branding: I need feedback on my new logo at SEO book.com
http://www.seobook.com/images/logo.jpg
"Online Branding by a Schmuck"
http://www.search-marketing.info/newsletter/articles/branding.htm
------------------------------------------
Tool of the Week: Custom home page :) If you are reading this you probably in some fashion could scrape together a web page...or at least know someone who can do it for you.
Why not create a custom home page just for you? You can provide links to your email account, tools you use, and frequent sites you visit.
In addition you can use RSS, Moreover news feeds, or Iframes to track hot topics and news which interests you. By tracking news in this manner you can be one of the first to know most everything important with your field of study.
------------------------------------------
Book of the Week: The Revenge of Brand X: How to Build A Big Time Brand - Rob Frankel offers tips on what branding is and why it is one of the least understood concepts in marketing. In addition he teaches what the title implies: how to build a big time brand.
http://www.amazon.com/exec/obidos/ASIN/0967991218/newnavyus-20
------------------------------------------
What Would You Like
This newsletter will only be good if I can offer what you are interested in. Please send your SEO questions or any ideas you have for things I should put in here.
mailto:aaron@search-marketing.info
-----------------------------------------
Random happening of the Week - please laugh.Pick one:
Bush said parts of the Patriot Act were set to expire this year.
Democrats cheered.
Bush then stated that the terrorist threat would not expire.
Republicans then cheered. <---- What the hell were these people thinking?
The RIAA is one of the dumbest organizations in the world. They were using a pirated version of Kazaa to find file swappers. Now Kazaa has got the OK to sue the RIAA...must love irony...big fan!!!
-----------------------------------------
if you like this newsletter please tell a friend to signup

Got SEO Questions? Get Answers in Minutes NOT Days
Read the SEO Book blog today for the latest SEO tips.
Search the archives for specific posts
You may also want to ask your questions at the SEO Book community forum.