Testimonials
"I was thinking about you all day today and what a great person you are."

"I wanted to be #1...After 2 months I reached the top position for my most popular keywords."

Read More...

Above The Fold!
The SEO Book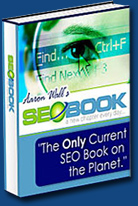 PPC Information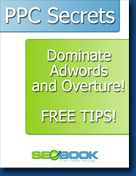 Learn more by reading PPC Blog today.
Need Links?
Need Traffic?
Use these
Free PPC Coupons
SEO Tools
WordTracker
- keyword suggeston
Search Engine Marketing Newsletter
This it the home of the archives of Above The Fold, my search engine marketing newsletter.
Above The Fold Articles
ABOVE the FOLD Vol. 1 issue 3.
sections:
tool of the week *** book of the week ***what would you like ***around the web: The Answer to the algorithm*** random funny
FREE GIFT: Purple Cow to the first three who moo? read below :)
------------------------------------------
Tool of the Week:
Lynx Viewer: See your page through the eyes of another. If you are uncertain what a search engine sees when it visits your site you can take a look.
http://www.delorie.com/web/lynxview.html

my home page
http://www.delorie.com/web/lynxview.cgi?url=http%3A%2F%2Fwww.search-marketing.info
------------------------------------------
No strings attached. 100% FREE Purple Cow book to the first three who email me their address. Please place MOO in the subject line!
mailto:aaron@search-marketing.info?subject=MOO
Book of the Week: Purple Cow: Transform Your Business by Being Remarkable
http://www.amazon.com/exec/obidos/ASIN/159184021X/newnavyus-20
Seth Godin (probably my favorite author) is having me cover two of his books in two weeks. Next week it will be someone else, I promise! Purple Cow covers some of the simple ideas behind becoming a success.
He defines remarkable as being worth of a remark, and thus by being either great or really bad you can succeed. Most easy sells in the middle have already been sold. One needs to only look at his wild means of distribution to understand how well he knows what he is talking about.
------------------------------------------
What Would You Like
This newsletter will only be good if I can offer what you are interested in. Please send your SEO questions or any ideas you have for things I should put in here.
mailto:aaron@search-marketing.info
------------------------------------------
Around the Web (news)
The recent Google algorithm change has still frustrated more than a few people. The short answer solution to the problem is that the web is as much or more an information source as a commerce platform. Free extras are what sell.
In the last week most of the subscribers to this list did so because of a couple articles I wrote. They were the added extra that enticed people to view me as a guru. Am I one? Is search engine marketing a valid profession?
I emailed Seth to ask him what I should do with my new found popularity. He did not agree that search engine marketing was a valid profession since Google holds all the cards. I agree with him. Focusing exclusively on the search engines is a huge headache.
What works well is understanding enough about search engines and then including it with all of our other business ideas as an added bonus. By understanding the concepts on which they are based it becomes easier to find free or cheap distribution. As search engines become more advanced it will require better content for our visitors, which should be the goal anyway. Here is one of the hundreds or so emails I got this week...
"My primary responsibility is to find renters homes and not worry about my specific placement in Google, which recently has given me an ulcer.
My site was number one on all of my keyterms for well over 3 months and now, gone. Well let me express something....I still show for many, just not the ones that really drive traffic to me, so I have enabled adwords which is very expensive."
Yes adwords is an expensive game to play. If you are not certain how to win at it there is an industry leading eBook that I recommend on every single page of my website. It costs $69, but is worth a ton more than that if you are going to stay with adwords. I honestly am starting to use AdWords for one client, so I am not yet the real expert on the system. Its not an easy thing to be a success at. Anyway, most of my good ideas
(http://www.search-marketing.info/search-engines/major-search-engines/google-adwords.htm)
about how to be successful in that arena came right from Andrew Goodman's 120 page report on AdWords. His report is how I came to know Seth Godin.
http://www.page-zero.com/products_asroi.asp?hop=awall19
"What do I do? When people in my industry are looking for the best housing information, they turn to me, I am turning to you, looking for the best SEO advice."
The pages you read contained much of what I know, practice implementing some of the ideas I mentioned in them. I looked at your website and did not see the knowledge you had really, mostly just a commercial platform. If a person wants to be able to search you make them fill out a huge old survey. People are typically rather concerned with privacy. They also are looking at your site to save them time. This huge roadblock is costing you many conversions I bet.
Most of your good content was only available via text links at the bottom of the page. At least one of your main buttons should go to some of the good stuff only linked to from the bottom of the page.
One guy who called me this week just lost his distribution to his
$3,000,000/ year enterprise. On his site he had no content whatsoever. He made me want to vomit. Of the money he was making, he re invested absolutely none of it in his platform. Imagine how successful he would be today if he would invested time to develop content and a relationship with his customers.
One of the other articles I wrote show how you can have quicker testing feedback loops. The article I wrote about weblogs which went out with the first issue of my newsletter is a good idea
http://www.search-marketing.info/newsletter/seo-blog.htm
"While I understand the mechanics, I dont have a ton of time to devote finding the solution for one single site....know what I mean?"
That's the problem many people are facing. There is no quick solution. It takes many months or years of hard work to develop yourself on the web. Register your site with the directories, link building, content creation...There might be quick ways to short term profits, but in the long run it is the end quality of you product that matters. You have to give people exactly what they want. I will give you a perfect example: me.
My site is actually rather large (some of it is still in a horrible format) and is all static web pages. It takes a ton of effort to update it - will end up taking hundreds of hours. As it first grew, few people were interested in it. Just over a week ago I started writing articles. Alexa ranks me as one of the top 20,000 websites in the world this week. I am no star, I was just the first to write an article about the change.
To be a success you are going to have to provide more than the base level exchange medium. My general content about search engines did not do that. My articles obviously did strike a spark with some. The odds of you just naturally being the perfect medium are next to none.
There are ways around that though. You are an apartment search website, right? Google is trying to index content which is informational in tone. Help yourself out on both ends. If you have content pages it gives you more pages in the index, Google is more apt to rank them highly, people are more likely to link to you if you are a resource versus just a commercial platform, and those reading your advice on the content pages are more likely to convert into customers. In addition you may have to un optimize many of the things you have been optimizing. Home pages specifically were targeted by the algorithm since most inbound links go to home pages.
Success is not something that will just happen, you have to build it. Have you ever had an apartment? What were some of the problems you had with them? Did you have a secret for how to find the perfect apartment? I would be willing to bet that some of your commercial listers would even gladly provide these type of articles free provided that you have a link which shows their apartments at the bottom of the page.
There are so many ways around the new problem which just happened. You can focus specifically on Google and exactly tweak in for the new algorithm and just get frustrated again in three months. OR you can work hard investing in your site through partnerships and content creation.
"Well I am sure this email is one of 20,000 emails you get a day, anytime you have time for a response, a quote and a little advice would be great"
Well I am not that popular yet, but am looking forward to the day I could hopefully have to worry about that problem. I can only grow in that manner if you tell a friend about me!
best of luck
happy Turkey Day
aaron
-----------------------------------------
Random happening of the Week - please laugh
I got to shoot an apple off someone's head
http://www.winewingswaitstaff.com/images/homepics/games/g7.swf
-----------------------------------------
if you like this newsletter please tell a friend to signup

Got SEO Questions? Get Answers in Minutes NOT Days
Read the SEO Book blog today for the latest SEO tips.
Search the archives for specific posts
You may also want to ask your questions at the SEO Book community forum.