Testimonials
"I was thinking about you all day today and what a great person you are."

"I wanted to be #1...After 2 months I reached the top position for my most popular keywords."

Read More...

Above The Fold!
The SEO Book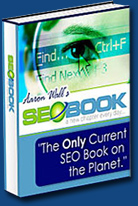 PPC Information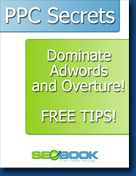 Learn more by reading PPC Blog today.
Need Links?
Need Traffic?
Use these
Free PPC Coupons
SEO Tools
WordTracker
- keyword suggeston
Search Engine Marketing Newsletter
This it the home of the archives of Above The Fold, my search engine marketing newsletter.
Above The Fold Articles
ABOVE the FOLD Vol. 1 issue 2.
sections:
why the web- why me*** tool of the week *** book of the week ***what would you like ***featured articles: The Life Cycle of a Search Engine, Google Sells Christmas *** random funny
In recent times it has seemed society in general has became less trusting. As technology advances it is clear that we are having less and less free time. Couple these two items and it is becoming obvious why TV marketing is becoming less and less effective. We are becoming smarter and more able to distinguish fact from fiction.
------------------------------------------
SEO Tool of the Week:
Google Toolbar - the Google toolbar is a handy tool for SEO. While many advanced SEO experts do not use the toolbar, it is a good guide to go by. The toolbar with advanced features offers site information such as Google cache page view, word selection highlighting, PageRank and inbound page links. All of these can be used to help make SEO a little easier.
The Google toolbar only works for windows. If you have an Apple you can try to get PageRank from the Google Directory, or use a program such as ABC-PR.
Please note that using ABC PR is against Google's terms of service.
free download the Google Toolbar
free download ABC PR
------------------------------------------
Book of the Week: Permission Marketing
Permission Marketing : Turning Strangers Into Friends And Friends Into Customers
Seth Godin (probably my favorite author) launched his writing career with the simple idea that many micro sales are easier to make than one huge sale. With the internet almost everything that is done is highly responsive and trackable By you reading this, and me not spamming you it aids to develop our relationship. Eventually a few readers will want to do business because words you read from this newsletter.
If you have a web service a newsletter is important in developing a great relationship, and you should never ever sell your subscribers with poor content, or to other sites. Permission sold is permission lost!
------------------------------------------
What Would You Like
This newsletter will only be good if I can offer what you are interested in. Please send your SEO questions or any ideas you have for things I should put in here.
mailto:aaron at search-marketing.info
------------------------------------------
Around the Web (news)
Google this week took it upon itself to change the landscape of search engine marketing. I did not want to flood your inbox two huge articles. Please note: much of what I have written is based on facts and testing I have done. Some of what I have written is based on speculation.
I do not recommend changing any inner pages in your website due to what you read in these articles. You may or may not want to change you home page based on what is written. (Most SEO professionals are saying to wait before you change your site, as Google is still changing its algorithm, but I think it is important for you to decide what you want to do!)
here are links to each article, and of course all links will be available from the newsletter archive. Both articles are rather meaty, but we should eat what we can before hibernation!
Death Before Birth - The Life Cycle of a Search Engine
articles and newsletter archive
-----------------------------------------
Random happening of the Week - please laugh
Soon after the launch of the Matrix part 3, the MEATrix is launched.
-----------------------------------------
if you like this newsletter please tell a friend to signup

Got SEO Questions? Get Answers in Minutes NOT Days
Read the SEO Book blog today for the latest SEO tips.
Search the archives for specific posts
You may also want to ask your questions at the SEO Book community forum.