Testimonials
"I was thinking about you all day today and what a great person you are."

"I wanted to be #1...After 2 months I reached the top position for my most popular keywords."

Read More...

Above The Fold!
The SEO Book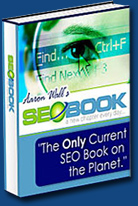 PPC Information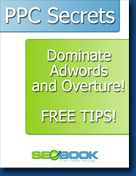 Learn more by reading PPC Blog today.
Need Links?
Need Traffic?
Use these
Free PPC Coupons
SEO Tools
WordTracker
- keyword suggeston
Website Usability Books
Designing Web Usability - Jakob Nielson writes the bible (or Koran) or web site usability. One of the most comprehensive books on any subject.

The more you learn about website usability, the more you realize website usability is good SEO.

Buy Designing Web Usability : The Practice of Simplicity

Don't Make Me Think - Steve Krug has a simple approach to web site usability, do not think about it. His approach does a great job of mentioning the fact that the less I have to think, the more likely I am to do what you want. I would consider this a great intro book into web site usability. In all honesty, Designing Web Usability has more than most would probably desire. The simple, straightforward approach of this book causes it to have usability we would all dream to have on our own web sites.

Buy Don't Make Me Think: A Common Sense Approach to Web Usability

Got SEO Questions? Get Answers in Minutes NOT Days
Read the SEO Book blog today for the latest SEO tips.
Search the archives for specific posts
You may also want to ask your questions at the SEO Book community forum.