Testimonials
"I was thinking about you all day today and what a great person you are."

"I wanted to be #1...After 2 months I reached the top position for my most popular keywords."

Read More...

Above The Fold!
The SEO Book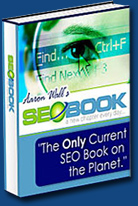 PPC Information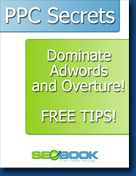 Learn more by reading PPC Blog today.
Need Links?
Need Traffic?
Use these
Free PPC Coupons
SEO Tools
WordTracker
- keyword suggeston
Search Engine Marketing Books
If you read the following reviews you should notice that there is not a real hard sell for any of them. The reason is that I have no reason to. For what it's worth I consider my reviews to be from an unbiased and informed person.
Obviously I like my own eBook, but these books were reviewed with honesty being the first objective. I provide links to many of the other eBooks for your convenience. If you would like to ask me any questions about any of the following books feel free to send me an email.
In Depth Search Engine Technology
Search Engine Marketing: The Essential Best Practice Manual - ($97) Mike Grehan is one of the original technical gurus of search engines. He offers a 100% money back guarantee with his search engine manual. His book looks at the core technologies behind search engines, and he also conducts interviews with many search engine employees. His book is over 300 pages long and cites many of the research papers from the history of search. He also interviews many search engine engineers. If you are a search engine junkie this is the book for you.
My eBook
SEO Book - ($79) This is actually my own eBook that I consider a comprehensive search engine marketing guide. If you are looking for only a specific subject I do not recommend buying my book. See the headings below for other options which may also suit your specific needs.
Google AdWords
21 Ways to Maximize Google AdWords Profits - ($69) Andrew Goodman does a great deal of explaining the fine workings of the AdWords system. He covers almost every conceivable way to improve your results with just about any type of advertising. While the medium may change, the concepts stay the same. Andrew Goodman is the lead editor of Traffick. If you intend to primarily use Google AdWords this is the report for you.
Paid Search Engine Marketing
My Free PPC PDF - check out the quality of the content in my book for free. I made the pay per click search engine marketing strategies a free download.
Search Engine Advertising - book by Catherine Seda discusses most of the issues related to the paid side of search engine marketing.

She includes details from the keyword selection process right up to many of the fraud cases & legal issues facing search today. She includes more insight on controlling affiliates and using the affiliate networks to sell your stuff than any other search engine book I have read.

If you are an exceptionally small business starting a brand new campaign and know absolutely nothing about paid search I would recommend reading Andrew Goodman's book first and mastering AdWords.

If you are looking for larger media buys, a general overview of the paid search market, or will be controlling large and diverse accounts then Search Engine Advertising : Buying Your Way to the Top to Increase Sales is currently the best book on the market for you.
Themes and Keyword Selection
Search Engine Optimization Fast Start - ($29.95) Dan Thies covers many similar topics as my book, but goes more in depth on the topics of theming and keyword research. My eBook is more in depth on pay per click, copywriting, and linking. While many SEOs argue about theming and its role in search engines, it is still important to keep a well focused site for your users.
I would say of all the ebooks on this list, this is the one which most closely resembles the book which I wrote. It makes me wonder if it is a coincidence since he recently sent me this comment "I've been more and more impressed by the quality of your writing. Your blog is now in my daily rotation."
Copywriting
The Nitty Gritty of Search Engine Optimization - ($49) Jill Whalen was one of the original SEO copyeditors. This is her guide on how to write keyword rich copy on your website. At just over 20 pages this is a quick read for anyone. You only have to learn a few things to make a worthwhile investment. Jill Whalen is the owner / operator of Highrankings.com. This book is a solid investment if you need to learn copy editing.
Affiliate Marketing (as an Affiliate)
Google Cash - ($49.99) Chris Carpenter wrote a quick ebook which is focused on using Google AdWords to market the products of others. This is not an ebook which is focused specifically on AdWords for using AdWords for your own products.
This product is more focused on finding areas of the web with low competition and then taking the free money off the table. Many of the concepts in this book will already be known by experienced internet marketers, but this book is a great cheap start for a creative newbie. More in depth Google Cash review. If you are interested in an in depth AdWords review I recommend Andrew Goodman's report. Also I think this ebook would work better if used in conjunction with Andrew's report.
Linking
Linking Matters Report - Ken McGaffin offers a free straightforward guide to building a linking campaign on the web. This is a no BS guide to starting your linking program. It will introduce you to many of the tools, software, and resources needed to competitively link your website.
Linking 101 - Larry Sullivan also offers a linking eBook and linking script in a low cost package deal. His guide is primarily focused on reciprocal linking. It is a super quick read. If you are really into wanting to start reciprocal linking it may be a good idea to glance at his ebook. He also links out to many other ebooks in this guide and there is not a ton of meat to it. It is not extremely expensive though and you only need to learn 1 or 2 new things to pay for its price.
General Search Engine Information
Below these three books are placed in the order in which I liked them. If you need a text book on search engines and are not interested in learning all the core technical details I would recommend Search Engine Visibility.
Search Engine Visibility - book by Shari Thurow discussing the basic ideas behind how the search engines and internet work. Shari is a frequent speaker at search engine seminars, she actually was a speaker at my first conference.

In this book she does a good job of describing some of the ideas which make up the internet so as not to be exclusively focused on small picture details of search engine marketing that would be soon outdated. If you know nothing about search engines, and are interested in them. Buy Search Engine Visibility
Other SEO Ebooks
Unfair Advantage to Winning the Search Engine Wars - ($97) This is Planet Ocean's book. When I read it the book itself was not as good as I would have hoped, but I think their monthly newsletter updates are well worth $8 a piece for someone who wants to keep up with the industry.
I think trying to write a comprehensive book and keep it up to date is exceptionally hard. They prefered to make their book a bit leaner and then give lots of content in the monthly updates, which is probably a much smarter business model for them because that concept is far more condusive to charging monthly update fees than rewriting an ebook...plus it is much easier IMHO.
Search Engine Yearbook 2004 - ($39.99) A few hundred pages of search engine information. I recently wrote an eBook covering many of the same/similar topics. André le Roux does not cover PPC heavily in his book, but he covers most the other bases. In my eBook I tend to say this is good or this is bad. On some of the ideas he tends to go into more of the detail into why this is good or this is bad. He also has a few guest articles and offers a 90 day money back guarantee.
Search Engine Optimization Strategies - ($37) I am a search engine junkie and so I really keep up with the search engines. The problem with Michael Wong's eBook is that it tries to go into some of the specifics which change over time & is not updated frequently enough to have some specifics like database size in it.
I like a book which is focused on principals, not necessarily details. The same thing this book struggles with is what my website does. Daily I have to change or update information. Quality of information is more important than quantity. Search Engine Visibility would be a better general guide to get your feet wet if you are looking to learn about search but are not looking to learn specific techniques.
Bad Search Engine Books
10 Quick Steps to Making Perfect Google AdSense - eBook by Audri and Jim Landford helping people to make sense of Google AdSense. For me this eBook was a total let down. I suppose the target audience for this eBook was not professional SEO firms.
They cover many of the common questions and give a few good tips about Google AdSense, but most of the valuable information included in this guide is available free elsewhere. Namely
In addition you may want to sign up for Audri and Jim's free newsletter. It is strong on trying to sell sitebuildit products, but it covers most of what is in their eBook for free.
I guess the reason I did not like this book is that I was not part of its target audience. In addition there is not a bunch of information on this topic since it is brand new and Google has disclosure policies which prevent certain details from being told.
Some of the things I think that would have helped improve this eBook would be
talking about gaining the permission asset with your page viewer
introduce specific techniques to improve pageviews
more specific testing techniques
For an absolute starter this ebook might be alright, but if you know anything about SEO it is not worth your time. The hardest thing about AdSense is just getting accepted. Beyond that most everything else is trial and error. Apply to join Google AdSense
Really Bad SEO Books (REALLY REALLY BAD)
Search Engine Optimization on an Extreme Budget - When I first started practicing search engine marketing I read this book. I actually read SEO on an extreme budget after my first Search Engine Strategies conference. I found through my past experience and what I had learned there that this book was not only outdated, but that much of its search engine marketing content was incorrect even before the book came out.
Search Engine Rankings #1 (How to get a top 5 in Google and Yahoo!) -
Granted, my reviews are based on my opinions, but these are the things I disagreed with in this ebook...
On page 11 it makes a sales pitch, uses the entire page to quote testimonials and make sales requests, and quotes a testimonial about how a person raised their (unknown unit) from 2/10 to 4/10 in the same day without any link building. Perhaps that unit is intended to be PageRank? Maybe it is actual rankings? Most often your ranking change does not occur the same day as you change stuff on your site.
Tells you that you need more than 300 words on your home page. Many high ranking pages do not have that many words.
Offers incorrect info about the frequency which GoogleBot surfs the web. (Saying that it comes out "each month.")
Gives incorrect information about the concept of keyword proximity stating that word order in page title does not matter to Google.
Tells people that the first 25 words on a page are super vital...not necessarily true.
I would describe this statement "Meta Tags are not bad, but they are mostly a thing of the past." as entirely incorrect when you consider how Yahoo! uses the meta tags.
Tells people they typically need large sites to rank well in Google - not always true.
Concentrates on how important PageRank is and absolutely misses the ball about how important getting many low ranking inbound links is.
Describes Alexa as useful when it generally is not.

Got SEO Questions? Get Answers in Minutes NOT Days
Read the SEO Book blog today for the latest SEO tips.
Search the archives for specific posts
You may also want to ask your questions at the SEO Book community forum.